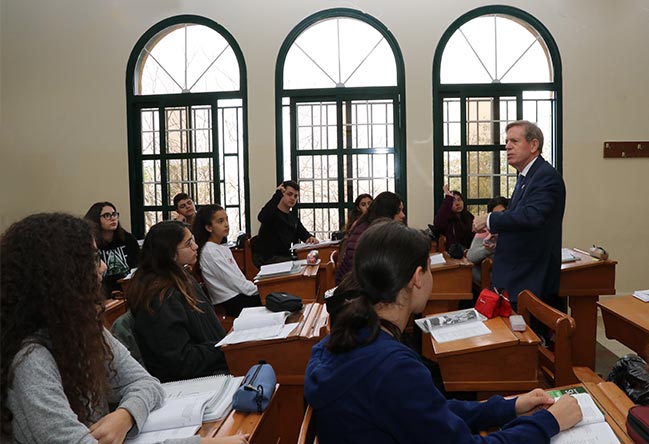 A Word From Our Principal, Mr David Gray
"I feel privileged to lead Brummana High School (BHS) which has played such an important part in Lebanese educational history.
It is my aim to serve the needs of your children, in whom you invest such hope, faithfully, consistently and to the best of my ability. My teaching colleagues, support staff, all members of the BHS community and I, shall work hard to provide a first class education to match the aspirations of the students.
I value the Quaker ethos of the school highly with which is equated a holistic educational philosophy, with its emphasis on the application of individual talent, high standards and excellence in all things, respect for others, tolerance and peaceful resolution.
It is our duty to nurture young people in such a way as to promote their interests, develop their sense of purpose and to enable them to emerge as confident, balanced, well-rounded adults who are determined to make their difference in the world, in their chosen field. Together we can provide expectations of an exciting, successful and satisfying future for our students. Not every step of the way will be easy but then no enterprise was ever worth undertaking without difficulties and obstacles to overcome. Perseverance is everything. Together we shall get there."
David Gray Biography
David Gray joined BHS as Principal in January 2019.
| | |
| --- | --- |
| Born in Inverness, Scotland, David Gray graduated in 1977 with a BA in English from the University of Bristol, where he also did his Postgraduate Certificate in Education. David Gray started his educational career in Athens in Greece and since then worked in London and in Leeds before becoming Headmaster of Pocklington School in Yorkshire, England, in 1992 and then Principal of the Erskine Stewart's Melville Schools (ESMS) in Edinburgh, (the largest group of independent schools in the European Union) from 2000 until 2018. He is a member of The Society of Heads.  | |
Now, with nearly 26 years of experience as Headmaster and Principal of leading independent schools in the UK, David Gray is an international educational leader who has developed a deep awareness of what constitutes first class education. He has the experience of instilling high standards throughout a school and inspiring the ambitions of the next generation of leaders and managers.
David Gray and his wife, Marie-Hélène, live on campus.