The Art Department at BHS is a platform where students experience many disciplines which will help them develop a more accomplished learning. Art, drama and music are a vital part of a good education.
The history of every civilization is implanted in its arts. Experiencing other cultures is better done through arts and drama where the students engage in each activity through many practices and using many skills.
These activities provide our students with a chance to use their imagination and develop creative skills like imaginative problem solving, critical thinking, teamwork and hand/eye coordination.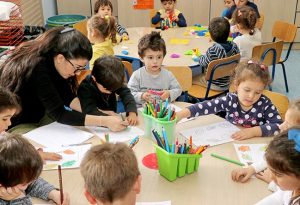 Also, our department aims to prepare students to study arts at universities by introducing courses they will come across during their first years: basics of drawing, understanding sculpture and 3D objects, graphic design and fashion design, as well as acting, musical theatre, costume design and stage management skills in set design, lighting and sound in drama.
Indeed, the musical offering of the school is just one area which is currently expanding, with more opportunities for students to participate. The school choir practices once a week for shows such as for Founder's Day and Christmas. The new school band is also an exciting development, as is the option for students to learn different musical instruments in a one-on-one environment with an experienced musical tutor. BHS is also active in inviting outside musical artists to perform on campus, including the Lebanese Philharmonic Orchestra and the United Strings of Europe.

We always try to balance our curriculum with theory, skills and experiences because we believe that art happens every day and at any moment. We teach students to have an open mind to whatever is going around them and try to question it differently instead of accepting it….that is how artists are created in any field or discipline.
"Where did I learn to understand sculpture? In the woods by looking at the trees, along roads by observing the formation of clouds, in the studio by studying the model, everywhere except in the schools…" August Rodin, sculptor.
For more information, please contact Maya Bechara, Head of the Arts and Crafts Department.