Theophilus Waldmeier, a German-Swiss missionary, first came to Mount Lebanon in 1867, during the time of the Ottoman rule, and was engaged as inspector of branch schools in Beirut, the mountains, and Damascus.Some time between 1869 and 1874, Elijah G. Saleeby opened the first school in Brummana, a remote village overlooking Beirut (three hours from Beirut on horseback), called the "Darlington Station" because it was backed with Quaker (Religious Society of Friends) subscriptions from Darlington, England.
In 1873, Theophilus Waldmeier opened a girls' school in Brummana, with money sent to him by his friends in Switzerland. Before the end of the year he was sent further money from Switzerland to open a boys' school at Brummana.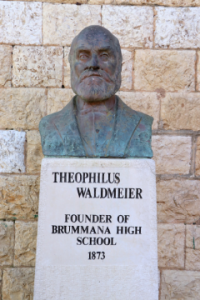 In 1874, Theophilus Waldmeier visited England to raise money for the school from the Society of Friends, and he himself became a Quaker. When he returned, he purchased 20,000 square yards of land called "Berket al-Ghanem" (The Pool of the Conqueror) which was a hillside of pine, fig, and mulberry trees with two fountains of water on the edge of Brummana.
The Friends' Syrian Mission (a committee of English and American Friends) approved the purchase and authorised the building of a boys' school. In this same year, Elijah G. Saleeby handed over the "Darlington Station" school to Theophilus Waldmeier. In 1876, the Boys' Training Home (now Brummana High School) was opened in a leased house in Brummana until the new building was ready. The land name was changed from "Berket al-Ghanem" to "Ayn al-Salam" (The Fountain of Peace). Within five years, the school had grown to 300 students, bringing literacy and new ideas to the isolated mountain area. When in 1878 the new Boy's Training Home building came into use, it housed the only dispensary in Mount Lebanon. As the medical work increased, in 1881 alternative accommodation was found in an old silk factory which was converted into a hospital with 15 beds on the ground floor and a dispensary and outpatient accommodation in the upper storey. In 1882, the Girls' Training Home at Brummana was opened.