The Intermediate Section at Brummana High School (BHS) is comprised of grades 7, 8 and 9, with the International and Lebanese programmes being offered at each grade level.
Every student in the Intermediate Section is assigned an Adviser at the beginning of the year. The role of the Adviser is to monitor the students' social well-being and academic progress. Advisers meet with their advisees once a week to help guide them about study skills. Later on in the year, the different values in life are discussed. A School Counsellor, Supervisor, Nurse and Doctor are all available on campus and play an important role in ensuring the welfare and safety of all our students.
Once a week, the entire Intermediate Section gathers for assembly in the Meeting House. A variety of activities may take place at this time: inspiring stories are read, certificates are distributed, student achievements are recognized, educational movie clips are shown and guest speakers give talks on topics relevant to teenagers of this age.

In addition to the regular academic classes, all students are offered extra-curricular activities within their schedule, such as art, physical education, computer and drama. All students have five hours of French a week, during which they are divided into groups according to their level in French. The Arabic language is also offered to International programme students depending on their level.
All Grade 9 students are expected to fulfil a certain number of School Service hours which include duties such as helping out the Supervisor in the mornings and breaks; for example distributing papers to classes, ensuring that lights are out and helping supervise younger students between classes. The image above shows the 'Crossing the Bridge Ceremony' when Grade 9 students say goodbye to this section as the move up for their final three years to the Secondary.
After school activities are offered to all our students. Those who wish to join can choose from the following: soccer, basketball, rugby and volleyball. Students can also choose to join any of the after school clubs that usually begin after the first month of school.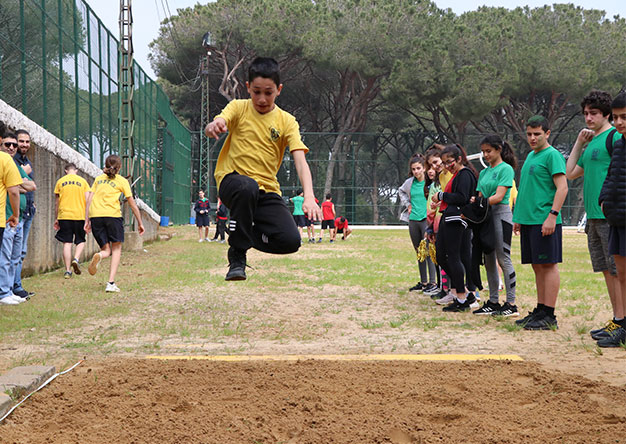 BHS' motto is "I Serve", and with this message in mind, we as the BHS family are all here to ensure the well-being of each and every one of our students. Parents are encouraged to maintain communication with their child's Adviser and teachers by calling during their office hours on +961 4 960430/1/2/3 or +961 4 862533/4 on ext. 1 – 9 – 424.
For more information, please contact Aline Alam, Head of the Intermediate Section.