Life in a boarding school is a unique experience for young people as they mature into young adults. As they experience the responsibilities and pleasures of communal life, our students become more self-reliant and self-confident. Working together to build a peaceful and harmonious community, they learn the need for self-discipline and to care for others. We know that our past students have formed friendships which they cherish long after they have left Brummana High School (BHS).
Throughout its history, BHS has had a well-established boarding section. Our students come from a variety of backgrounds and nationalities.
The boarding section is set within the school's stunning, nature-rich, 15-acre campus, situated at 750 metres above sea level and 25 minutes drive from the Lebanese capital, Beirut.
We accept boarders from Grade 5 (Upper Elementary Section). If accompanied by older siblings, we accept younger students from Grades 1-4.
Family Atmosphere
The students live in a friendly and family-like atmosphere. The boarding houses are directed by the Head of Boarding and House Parents who live in and are responsible for students, staff and the boarding activities programme. There are also Boarding Assistants, who work closely with the Head of Boarding and House Parents.
Together, our dedicated team of Head of Boarding, House Parents and Boarding Assistants come to know students well, and this enables them to support and guide the students. They give special attention to study habits, accompany students on trips, celebrate birthdays, and they make every effort to see that the boarding experience is a happy, productive and positive one.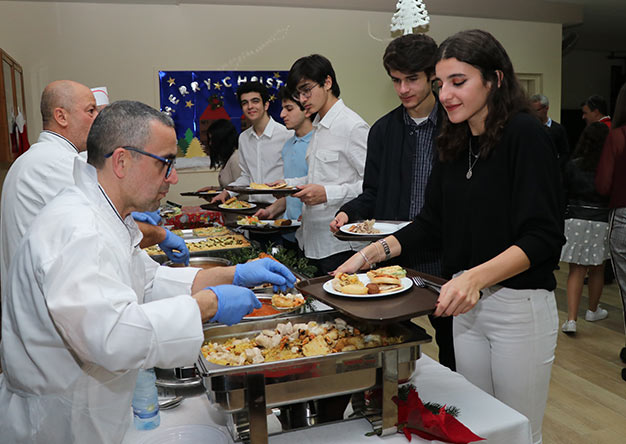 Full, Weekly and Flexi Boarding Options
The school currently provides three boarding registration options:
Full: Weekdays and weekends
Weekly: During week days only
Flexi: Half or full boarding for a specific period of time
Further Information
Further information is available from the Head of Boarding.
Day Telephone: 961 24 960430/1/2 Ext 464
Telephone after 4 pm: 961-24-862533 Ext. 532
Fax: 961 24 961225 Ext.543
Email: rabih.aouad@bhs.edu.lb