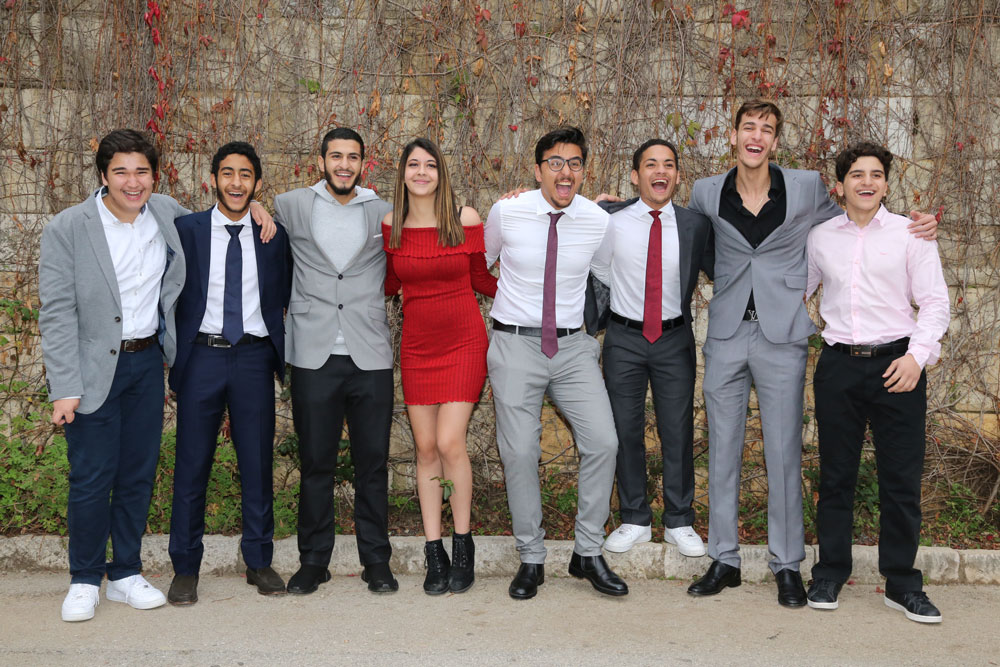 Life in a boarding school is a unique experience for young people as they mature into young adults. As they experience the responsibilities and pleasures of communal life, our students become more self-reliant and self-confident. Working together to build a peaceful and harmonious community, they learn the need for self-discipline and to care for others. We know that our past students have formed friendships which they cherish long after they have left Brummana High School.
Throughout its history, Brummana High School has had a well-established boarding section. Our students come from a variety of backgrounds and nationalities.
The boarding section is set within the school's stunning, nature-rich, 15 acre campus, situated at 750 metres above sea level and 25 minutes drive from the Lebanese capital, Beirut.
Minimum Age
We accept boarders from Grade 5 (Upper Elementary Section). If accompanied by older siblings, we accept younger students from Grades 1-4.

Accommodation
There are two boarding houses available, one for girls and one for boys. A maximum of two students sleep in each room, and the school prides itself on the comfort and spaciousness of the dormitories. There are also recreation rooms, study areas and sitting rooms where students can relax.
Family Atmosphere

The students live in a friendly and family-like atmosphere. The boarding houses are directed by the Head of Boarding and Houseparents who live in and are responsible for students, staff and the boarding activities programme. There are also Boarding Assistants, who work closely with the Head of Boarding and Houseparents.

Together, our dedicated team of Head of Boarding, Houseparents and Boarding Assistants come to know students well, and this enables them to support and guide the students. They give special attention to study habits, accompany students on trips, celebrate birthdays, and they make every effort to see that the boarding experience is a happy, productive and positive one.
Meals
Throughout the week, students have three full meals in the campus dining room and a snack at about 3:30 pm. There is also a kitchen for student use, and snacks are always available. Over the weekend, and with the permission of the Houseparents, students are allowed to sleep in late, and their breakfast is served in the Boarding House. The weekend arrangements for lunch and supper are varied, and occasionally the students are taken out for meals. Provision is made during the month of Ramadan for fasting when the meals are served at the specified times for those students who wish to fast.
Study Period
In the evening, homework is done under the supervision of the boarding staff. During study time all students are expected to work quietly. Help is provided for students who need extra support in any subject. Students keep details of homework requirements in their agendas, and there is daily communication between Houseparents and teachers.
Bed Time
During weekdays, bedtime is 9:00pm with lights out at 10:00pm for juniors and at 10:30pm for seniors.
Activities

Activities are an integral part of life at Brummana High School. The campus has many sports fields, including football and basketball, along with a swimming pool and new multi-gym facility with 17 training machines available. All boarding students are encouraged to participate in the variety of activities on offer.

Every weekend there are organised activities or excursions for all boarders, such as field trips, skiing trips, visits to the theatre and other cultural events, and these provide boarders with a welcome break from the school routine. The cost of all trips, except for some optional activities such as skiing weekends, is included in the fees.

Each Boarding House has a large and popular recreation room including computers with Internet access, facilities for table tennis, board games, cable TV, video, DVD and a kitchen for supervised cooking.
Assemblies
Several times a year, on Sundays at 6:30 pm, there is a formal assembly with the Principal and guest speakers.
Village Leave
Intermediate Section students have a short village leave twice a week, and Secondary students have daily village leave.
Weekends and Holidays

Students are encouraged to stay over the weekend to take part in the various activities arranged, but they may have weekend leave, provided there is written permission from the parents, and the school is satisfied that there is a responsible adult in charge. Parents are encouraged to visit the students at weekends and on holidays and to participate in their activities. The Boarding House is closed for the long holidays.
Medical Facilities
While the students are on school premises, the school is responsible not only for the students' academic progress but also for their physical and psychological well-being. The school has qualified counsellors who work closely with the boarding students. There is a Sick Bay staffed by a paediatrician and a full-time qualified nurse. The paediatrician attends the Sick Bay twice a week and is on standby 24 hours a day. The nurse is on duty during school hours every weekday. The Head of Boarding and Houseparents are all First-Aid trained.
Insurance
In addition to the 24 hours a day accident cover provided by the school, additional general medical insurance is required for boarders. This may be arranged either by the parents or by the school at a group rate.
Full, Weekly and Flexi Boarding Options
The school currently provides three boarding registration options:
Full Boarding: Weekdays and weekends
Weekly Boarding: During week days only
Flexi Boarding: Half or full boarding for a specific period of time
Rabih Aoud
Head of Boarding
---
Further Information
Further information is available from the Head of Boarding.
Day Telephone: 961 4 960430/1/2 Ext 464
Telephone after 4 pm: 961-4-862533 Ext. 532
Fax: 961 4 961225 Ext.543
Email: rabih.aouad@bhs.edu.lb