The Arabic Department's teachers are highly experienced and specialised in the art of Arabic language teaching. A prominent feature displayed in all teachers is their love for students, so that their professional giving goes beyond human interaction, appearing through their care for understanding of every student.
The Arabic department works through both the Lebanese and International curricula:
In the Lebanese program, we follow the formal public education, taking into consideration general principles and methods of teaching when it comes to all educational levels. We apply the formal methodology decided by the Educational Center for Research and Development of Lebanon, so that we prepare students for the challenges of official exams. It is also worth mentioning that teachers stay up-to-date with the development of modern methodology through training courses or workshops. In addition to that, teachers attend and participate in the correction of official exams.
The International program follows a special system in which we take into account the level of every student. We distinguish here between foreigners, who do not speak Arabic, preparing them for IGCSE foreign language exams. Arabic-speaking students are also prepared for IP-IB exams, and on this basis students are divided into teaching classes, according to the levels on which they are classified. They follow the lessons with special books for the education of foreigners and with teachers who are proficient in language establishment.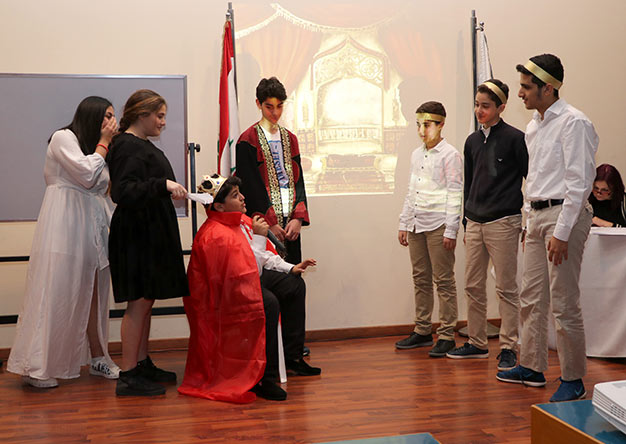 The Arabic Department seeks to raise the appropriate level for all our students, and to develop their creative, independent and integrated personalities in which they are able to think freely and independently. To achieve this, we adopt many modern and varied methods based on active and effective foundations while taking into consideration their capabilities and considering the following principles and guidelines:
Considering the student the center of the educational process
Shifting from automatic education to formative education, and promoting effective participation and dialogue
Launching the language from the text: The texts inside and outside books start from easy to the most difficult, from the simple to the complex, and from the physical to the abstract
Participating in the lesson, ensuring all students engage in dialogue, and giving them freedom to express their opinions and display confidence
Accustomising students to listen, respect and not interrupt others
Focusing on reading and oral conversations
Using language from the textbook, newspapers, magazines and public interviews, and then ensuring students write appropriately and present in class
Speaking with students using the classical Arabic language
For more information, please contact Isabelle Khoury, Head of the Arabic Department.