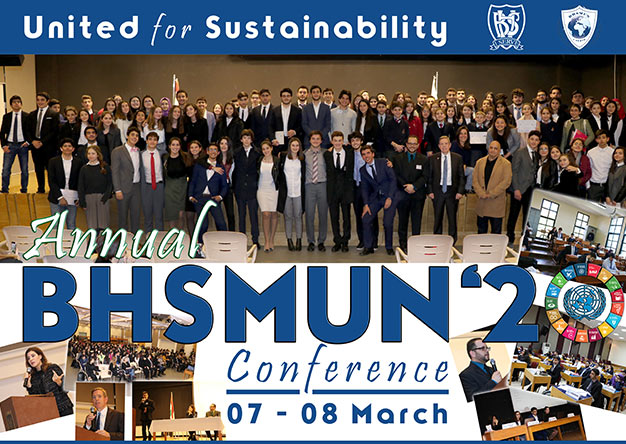 It is our honour to introduce the BHSMUN programme at Brummana High School. We hope that it will provide a stimulating Model United Nations experience for Intermediate and Secondary Section students.
The BHSMUN team has chosen the motto: Students Leading for a Change, as we believe it best fits what we aspire to do. We strongly believe in the youth of Lebanon, and the generations to come, and we aim to bring about a change which is not centred on violence and senseless rhetoric, but rather on peace, responsibility, patience and respect. We hope to contribute to a positive difference in our world.
BHSMUN lays out the paths for potential leaders of our future generations. Students of all geographical, socioeconomic and cultural backgrounds will engage in multifaceted dialogue. They will learn about world issues and international diplomacy in the hope of creating a world where future generations are spared the problems of today.
It is our pleasure to welcome you to our fourth BHSMUN Model United Nations conference on 7-8 March 2020. It is organised by the BHSMUN team and hosted on our spectacular campus in the beautiful town of Brummana, located in the breath-taking mountains of Lebanon.