The Infant Section consists of:
Kindergarten 1 (age 3)
Kindergarten 2 (age 4)
Kindergarten 3 (age 5)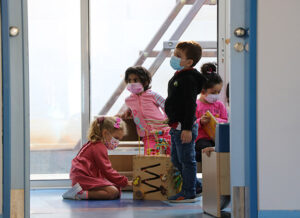 The Infant Section offers a caring child-centred environment that helps children develop socially, emotionally and academically. Children learn through hands-on activities and group work in centres. They explore pre-Maths concepts, investigate scientific activities and express themselves through art, music, movement, and language. The letter sounds and basic vocabulary of English, Arabic and French are introduced through songs and creative activities. A wide variety of manipulatives are used to help with the development of motor skills.
Each classroom has learning centres where children experience new activities. By working and playing, indoors and outdoors, in small and large groups, children learn about cooperation and sharing.
The school day begins with circle time, a time to share and discuss. This helps build confidence and encourages self-expression. A wrap-up session at the end of the day brings closure to the day's events and leaves the children calm and relaxed.
KG 2 and KG 3 students are introduced to French through a multi-sensory approach using creative arts, language arts, singing and games. As with learning a first language, the emphasis is placed on listening comprehension and speaking. French is taught in a natural, relaxed and fun environment. Reading and writing in French, as a complement to continued work with listening and speaking skills, is integrated into the curriculum as children progress through the primary grades.
We provide an optional daily hot midday meal for students. The menus are chosen to be tasty and appealing to young children and are approved by the School Doctor to ensure a varied, healthy, and balanced daily nutrient intake. A nutritious and healthy meal is a vital part of a child's day with a direct link to concentration and behaviour.
For more information, please contact Nada Bu Jawdeh, Head of the Infant Section.