A Quintessential, Determined Life – From Swiss Boarding to Brummana High School and Being 100% Certain in Your Wish
Monday, 20 June 2022
Share this article:
At the age of 14 and a half it would be hard to take being called back to Lebanon by your Ras Beirut mother having just experienced many wonderful school years boarding at a Swiss Alps snow station school. Yet, that is exactly what Mrs Sarah Abou Ayyash experienced and, despite suggesting she was happy and comfortable remaining for the summer in Switzerland, and a return to Lebanon being far from her first choice, she nonetheless came back to rejoin family and friends and complete her schooling.
It was at that time she first discovered Brummana High School. Taken to see schools in Beirut, Mount Lebanon and other parts of the country, it was the BHS campus and community that made the biggest impact on her. Had she not been French educated, it would have been the most straightforward decision to join BHS and complete her school days at Brummana. 
Throughout her early years Sarah learnt that hard work was the key to success and also how she could control her state of mind, not letting personal problems affect work performance. Graduating from school and university and establishing herself as a business executive (she first worked in business as an Inventory Controller in an international artisan boutique at the age of 15), she was now ready for the next opportunity which turned out to be an invitation to join a major commercial group and to lead several areas of the business. Working alongside her husband Mr. Ibrahim Abou Ayyash, Chairman of Al Madina Group, this included fashion (Versace Lebanon), real estate development and property rentals (BZA Holding) as well as food and beverages (Touristic Investment Company and Dunkin' Donuts), becoming the Chief Financial Officer for Dunkin' across the 30+ stores in Lebanon. She has been successful not only in Lebanon but also Jordan, Bulgaria, Cyprus and France.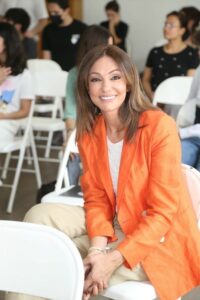 In 2019 she took the time and opportunity to establish her own company in the country. Sanondaf International is a British company providing a worthwhile service in outbreak control, disinfection and mould remediation to her many clients. It is likely infectious diseases will present the most significant threat to human life in years to come due to global warming and misuse of antibiotics and disinfectants. She is thrilled how science, technology and humanity come together at Sanondaf, correlating and combining in a beautiful way that gives her a sense of proud satisfaction in what she does for a living. 
Most recently, her passion for nature as well as knowledge that sustainable agriculture is much required for present and future generations led her to establishing an organic farming company 'The Virgin Lands'. She believes in protecting Mother Earth, something we at Brummana High School completely align with, evidenced not least by the school currently submitting its application for Botanical Garden Conservation International accreditation. 
To complete her story, and particularly in education, it was only natural when her family returned from Jordan to enrol her two children at BHS. Ibrahim and Wadad Catherine, Grade 10 and Grade 3 respectively, are two knowledgeable, respectful and hard-working students who are appreciating their learning journey on the BHS campus. And to complete the story even more, when Sarah travels outside of Lebanon in the upcoming year, it is certain the kids will join other BHS boarders in the Edinburgh Boarding Houses at the lower end of campus, allowing them to also taste the boarding experience and one she really cherishes from her time in Switzerland. 
She believes that all families in the school community capable of supporting BHS at this most challenging time could and should do so. With Lebanon "sinking" towards possibly the top 3 worst economic crises since 1850 (World Bank), there couldn't be a more appropriate time for members of the community to support. 
Thank you for sharing your story with us Sarah and we look forward to seeing you back on campus soon!