Art for Activism
Wednesday, 20 January 2021
Share this article:
By AYA Z. – 10 IP
Activism is the act of "doing". It is taking action for political and/or social change. Activism often invokes the unification of people for a cause. From the "Black Lives Matter" movement to the fight against AIDS, people have created many ways to inform and protest. One of those ways involves the translation of struggles and concepts to art. For example, when you think of the "Hippie Movement", you think of the "flower power" art. The flowers were a symbol of passive resistance and nonviolence. Furthermore, the art that we link to certain movements not only become symbols for their respective cause, but also become a way to invoke interest
and ignite discussion. Throughout the years, we've seen works that stretch across all art forms that have moved us or even caused controversy – but what they all have in common is their ability to catch attention and keep us vocal about their respective issue.
Art as a platform for activism is most often seen in the form of illustrations, sculptures, music, films, and dance.
To further get you familiarized with the concept of activism in art, we can relate it to Lebanon. The Phoenix statue located in Martyr's Square is a symbol of this country's hope and its ability to rise up after all the adversity it has faced. Though it stood physically in Lebanon first, the Phoenix made appearances all over the world and became the mascot of the movement.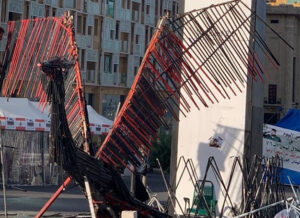 Another international example would be the infamous Banksy. He is an anonymous street artist known for his unconventional and satirical work. He is known for leaving his work in places like the Louvre and Disneyland, and lets his art speak for itself most of the time. His works represent a plethora of political matters, such as the existence and beauty of Palestine in the light of the Israeli-Palestine crisis. Whether you love or hate him, his art always gets the public talking and this serves to further propagate his activism.
Another format of activist art that we see is music, which is arguably the easiest to access and the most straightforward form of activism. We listen to music every day, although we don't necessarily seek out anthems of activism. We often realize what the song means after we stumble across it and fully grasp the meaning behind the lyrics, which is why music is so special to activism. We initially become aware of all these struggles on an individual level, as we listen, and our understanding of our favorite artists' takes at activism bring us closer to fans of the same music. Music really has the power to unify voices and get an army of people marching to
the same beat. For instance, Kendrick Lamar's song "Alright" became one of the BLM anthems. It is a song that highlighted the existence of light at the end of the tunnel of struggle, and it greatly unified all the struggles and voices of the black community and kept their spirits high as they marched in the streets. Other powerful activism songs are Beyonce & Kendrick Lamar's "Freedom", Z-Ro & Mike Dean's "No Justice No Peace", Aretha Franklin's "Respect", John Lennon's "Imagine", Ariana Grande's "God Is A Woman", and Marvin Gaye's "What's Going On".
In addition, movies and short films are also crucial to pushing conversations. Movies can place you within the perspective of a person with any particular social struggle. In "The Hate You Give", you witness modern racism and police brutality through the eyes of a black American teenage girl. In "To the Bone", your eyes are opened to the severity of eating disorders and how destructive and real they are. Movies also have the power to make you passionate about something. After watching "Knock Down the House", I felt very empowered by the women's successes, but I was also exposed to all the obstacles one faces trying to make a difference and how difficult and taxing it is to lead change. The emotions that documentaries and movies evoke within you undoubtedly inspire you to learn more and seek change.
Lastly, another very powerful means of activism is dance. Stereotypes and injustices that strongly affect dancers but still involve all people can be manifested through their performances. For example, fatphobia and eating disorders are unfortunately very prominent in the dance industry as well as the rest of the world. An influencer named Amanda LaCount gained her fame through her performances on America's Got Talent. She is a phenomenal dancer who advocates for body positivity and self-love through her dance. Other ways dancers stood up to adversity were in the BLM movements. During the protests, people of color performed their traditional cultural dances, and this allowed them to showcase the beauty in their individual cultures. Dance is very efficient at telling stories without words. Furthermore, dancers like Jojo Gomez and Janelle Ginestra use their choreography to bring attention to things like anxiety, sexual harassment, depression, and more.
In conclusion, the arts invoke emotions and inspire people to make a change. Watching, hearing, creating, and feeling are so important to learning and reflecting. Art provides people with a platform to capture the struggles, feelings, and beliefs of the world and turn them into something beautiful. Undoubtedly, art has no language and people from far and wide can feel inspired, moved, and united with a community of like-minded individuals through it.