Blog Article: Beirut Explosion and Aftermath – Student Initiative
Thursday, 13 August 2020
Share this article:
By Richard Bampfylde
Beirut Port Explosion and Aftermath – Students Taking Initiative
– Enormous and tragic blast in Beirut Port area
   – 2,750 tonnes of ammonium nitrate exploding
   – Over 200 confirmed dead, many still missing, 6,000 injured, 350,000 made homeless
   – 6km+ radius severely impacted; blast could be heard in Cyprus 200km away
   – Many hospitals damaged; large number of public and private schools also damaged
– Explosion occurs on top of social, political, economic and health crises, including devaluation of the local currency and rising Covid-19 cases
– Population supporting with damage assistance, cleaning up Beirut streets, offering housing
   – Many BHS students, staff and alumni heavily involved
   – BHS Seniors 2020 within 24 hours provided LL3,500,000 to Lebanese Red Cross
   – Student Council initiates collection of donations – food, clothes and sanitary products delivered to NGOs in Beirut plus extra LL6,000,000 raised for Red Cross
– Foreign aid arriving, including from UK, GBP 25 million plus HMS Enterprise arrival in port
Tuesday, August 4th 2020
At just after 6:00pm on Tuesday, August 4th an explosion occurred in the port area of the Lebanese capital, Beirut. News of the blast was worldwide instantly, via news channels and social media. The impact of the explosion is still being assessed but buildings and homes over 6km away suffered substantial damage to their properties. So far, at the time of this writing, over 200 people have been declared dead, many are still missing and unaccounted for, over 6,000 people have been injured and more than 350,000 people were homeless. The tragedy and impact of the Beirut blast, from 2,750 tonnes of ammonium nitrate detonating, is still being understood more than a week on. It is a tragic event that will never be forgotten. After the medical first responders, many of the initial helpers to the affected areas were students from schools and universities trying to offer assistance wherever possible, as the country declared three days of national mourning.
Lebanon, and particularly its capital city, has experienced tragedies throughout its history, including the 1975-1990 civil war and recently the 2006 July war. Car bombs have been detonated on regular occasions in Beirut, with the assassination of then Prime Minister Rafic Hariri in 2005 the most notorious and impactful in the 21st century. Despite this history and these tragedies, many are saying what occurred last week is unprecedented, with middle aged and elderly Lebanese saying they have never experienced anything like this before. 
The country had been experiencing substantial socio-economic problems prior to last week, on top of the Covid-19 global pandemic, and with coronavirus cases rising sharply again in previous weeks too. The local currency, the Lebanese Lira, had lost over 80% of its value against the US dollar and sharply escalating, inflationary prices for goods and services in the country have been leaving the majority of the population on a precipice, particularly the now 50%+ unemployed. The explosion leaves the city and country wrecked, both physically and emotionally. Indeed, the fear of many right now is how will the Lebanese Red Cross, the chief medical responders, be able to cope with the injuries and aftermath of the blast, particularly with the coronavirus situation on top. Thankfully, cash donations have been pouring in for the Red Cross in Lebanon from the local population and across the globe, yet much more continues to be needed. Assistance is required even more when considering that hospital resources were already stretched with Covid-19 cases, and now some hospitals in the blast zone have been severely affected, even being partially or wholly destroyed as was the case with at least three 1km from the port district.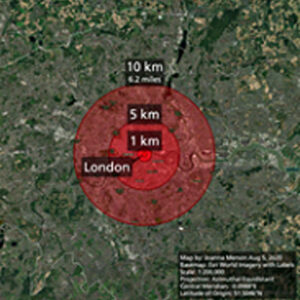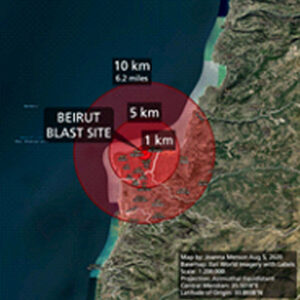 Comparative images of Beirut with London and New York (https://twitter.com/JoannaMerson/status/1291748922847662080)
The 2,750 tonnes of ammonium nitrate (NH₄NO₃) had been held in the port area for six years, after it had been accepted following the terminated voyage of a container ship aiming to deliver the material from Georgia in western Europe to Mozambique, on the south-east coast of Africa. "The blast is one of the largest accidental ammonium nitrate explosions ever recorded— so powerful that it was heard more than 200 kilometres away in Cyprus." (https://www.nature.com/articles/d41586-020-02361-x) The chemical compound, commonly used as an agricultural fertiliser, can have such tragic consequences when stored in large quantities and exposed to heat, as was presumably the case in Beirut when a fire most likely broke out very close to the storage site. When ammonium nitrate explodes a shockwave is produced from compressed air, the air expands rapidly and cools suddenly and the water condenses, which causes the cloud. Perhaps unbelievably, the substance had even very recently seen similarly tragic consequences in Tianjin, China, when in 2015 the city's port area saw 800 tonnes of the compound ignite, wreaking havoc in the surrounding area and killing 173 people. Perhaps only small fortunes, but according to Dr. Najat Saliba, professor of Analytical Chemistry at the American University of Beirut, the cloud of pollutants and nitrogen dioxide produced by Tuesday's blast, dissipated relatively quickly, and there is no fear over toxic rain.
Several schools in relatively close proximity to the Beirut port area have been severely affected. As if the dangers of the coronavirus and its impact weren't enough. Already it was starting to look more and more like a reopening of schools for the academic year 2020-21 would be online. For many schools in the area that is surely the only option now, with both private and public schools left with no other choice. Private schools affected included some of the top schools in the country, including the French system schools of Collège du Sacré Coeur-Frères, Collège Notre Dame de Nazareth and Grand Lycee Franco Libanais, as well as Zahrat Al Ihsaan and Greater Beirut Evangelical School. Significant numbers of public schools (Riad El Solh, Uruguay, Achrafieh Second and Salameh Al Sayegh) have been affected as well as universities, with the Lebanese University, Balamand (Achrafieh), Lebanese American University (Beirut), Saint Joseph University and the American University of Science and Technology. As mentioned, if Covid-19 fears and impact weren't enough, how long will it take the educational sector to rise again fully after such a terrible event. This is all on top of the inflationary cost of books and resources which the economy and country have been gripped with.
Lebanon and the Lebanese have an educational sector to be proud of. Indeed, the World Economic Forum ranks the country 4th best worldwide for Maths and Science education, and 10th best overall for quality of education. (https://www.edarabia.com/schools/lebanon/) Thus, one of the real fears now, of which there are many, is what will become of the education system in both public and private schools, and what will happen to our current school generation. How affected they will be by a potential loss of class time amidst all the devastation remains to be seen. If ever there were a time for educational aid in Lebanon, this would definitely be it.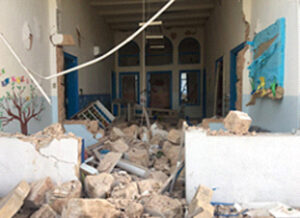 Devastation at the Beirut school École Des Trois Docteurs
The Lebanese community, in a country holding a population of some 5.5 million, and spread over just a small 10,452km² area, is a close-knit one and it is not far-fetched to consider that everyone in the country knows someone directly or indirectly affected by the explosion, either with injuries, damage to homes, or sadly even worse. It is the same close-knit community, however, that have responded with help and assistance in the hours and days since that fateful Tuesday early evening last week. Indeed, many of those responding soon after the explosion have been students, either from secondary school or university. BHS students, staff and old scholars (alumni) have been seen across the city helping out wherever they can. Indeed, this was even evident in some of the many hospitals damaged, as many of the BHS community worked tirelessly, in the Lebanese summer heat, to clear a floor of a hospital in the Jeitawi area of Achfrafieh, Beirut, just over 1km away from the blast site. Without their help, and the help of so many other volunteers on the ground, who knows how many more fatalities the country could have been witnessing sadly and frankly, as this hospital simply would not have been able to open properly.
"The hospital we helped cleaning was Hospital Rosaire. It was an incredible experience. Of course, it was so sad and shocking to see the great devastation to the hospital, yet the energy and spirit of all the young volunteers working together was uplifting. I noticed that even though the hospital we were cleaning is one in a Christian area, many of the volunteers were Muslims. One of the most inspiring aspects of the clean-up of Beirut was the fact that we were Lebanese from all parts of Lebanon and of all religions working hand in hand in one mission which is to save our dear beloved city Beirut." Rima Habib, Head of BHS Intermediate Section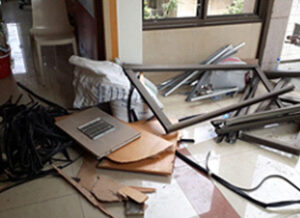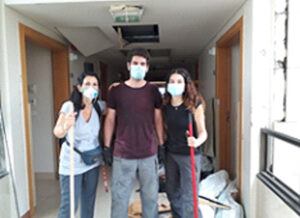 BHS Staff and Alumni cleaning-up after severe damage at Hospital Rosaire, with Rima Habib, Andrew Habib and Leticia Rahal along with others involved
The Beirut streets have been so covered in glass following the damage to buildings that cleaners to the area have been struggling to internalise the sight and sound of the continuously cracking material underfoot, whilst being swept into piles and piles of rubbish. A vast number of buildings are now in a woeful state, with many of those being the historic Lebanese houses and homes the city is famous for, dating back to the French mandate period (1920s to 1940s) and its noteworthy architectural past. Indeed, the damage to homes has led to tremendous numbers of individuals and organisations offering space away from the blast, around the city and country, with the Lebanese opening their homes to family, friends, colleagues and in many cases strangers.


One of the many social media groups established to provide emergency housing to those in need.
The very first responders and those who continue to provide medical support have been the Lebanese Red Cross. Placing themselves right in the middle of events, these paramedics and other emergency medical personnel have rescued and whisked the injured off to any available hospital functioning in impressive time to ensure they receive the medical attention and assistance they require. Some of the injuries have been horrific. Some of the injuries have of course been even worse, with more than 200 already marked as deceased, ranging from a two-year-old to the very elderly. Also affected was the St Jude's Children's Cancer Centre in the Hamra area of the capital. Other health responders include Himaya, an NGO established to protect children from abuse. Donations from local and international donors have been coming in thick and fast but these can never be enough right now. BHS Seniors (the school's class of 2020) were some of the first to respond, providing a donation of LL3,500,000 to the Lebanese Red Cross within 24 hours and at their own initiative. Again at their own initiative, the BHS Student Council have so far raised LL6,000,000 of cash donations for the Red Cross, sitting alongside their collections on campus of food, clothing and medical/sanitary supplies. These donations have come in from the school community, and the wider Mount Lebanon community, as so many try to help as much and wherever they possibly can for all those affected in Beirut, a mere 25-minute drive from the Brummana High School campus.
International donors have moved 'en masse' to support the city and country. Indeed, the British Government initially pledged GBP 5 million (3 million of which was for the British Red Cross who are directly supporting their Red Cross counterparts in Lebanon) with another GBP 20 million then being coordinated and offered on Monday, August 10th, the majority of which is destined for the United Nation's World Food Programme. Other countries with long, historic ties to the nation have also stepped up to provide donations and support. Canada is providing similar sums to that of the UK and France's President Emmanuel Macron even visited Beirut on Thursday showing his country's support, as well as hosting an international fundraising summit online of world leaders, which included the UN Secretary General Antonio Guterres. Indeed, Macron went as far to say that "I think at this moment, over these days the future of Lebanon is at stake. The future of the Lebanese people but also a whole region." (https://www.bbc.com/news/uk-politics-53714384) The UK have also sent the HMS Enterprise ship to support with Her Majesty's Ambassador Chris Rampling welcoming the ship into the Beirut port on Monday.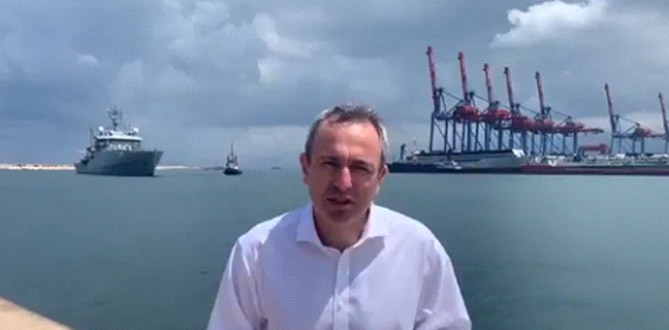 HM Ambassador Chris Rampling in Beirut Port with HMS Enterprise behind, image from Twitter: (https://twitter.com/ukinlebanon/status/1292789785740955648) 
BHS Principal Mr David Gray, a British national from Edinburgh and currently in Scotland for a month over summer, has been continually busy trying to raise funds for the country from UK contacts.
"The explosion which shook Beirut last week has done untold damage, destroyed and disfigured lives and brought suffering to hundreds of thousands. I was in the UK at the time visiting family members whom I had not seen for months. I was deeply shocked by the images that I saw being projected across the world's media. Since then I have been hugely impressed by the resilience of the Lebanese people, their willingness to restore some semblance of order, and by our own students' tireless work gathering donations and distributing food and essential materials to the poor and the dispossessed. I have been busy raising funds in my home country from a people in sympathy with the suffering of the Lebanese people in this their hour of need. I shall be returning soon but in the meantime pray for Lebanon and hope for better times for the country." BHS Principal David Gray
For those wishing to contribute to the ongoing support and assistance needed in Beirut and Lebanon, please click here for a list of reputable organisations conducting life-changing work in the country. For Lebanese living abroad, and we all know there is a huge diaspora right around the world, please check with your local Lebanese embassy.