Upcoming Event: Thursday Talks
Wednesday, 4 March 2020
Share this article:
The third in the series of Thursday Talks which was set for Thursday, 26 March is now postponed due to the Coronavirus situation. The guest speaker will be Mr Ziad Abi Chaker of Cedar Environmental. Mr Abi Chaker will be presenting two documentaries on zero waste and then engaging with the audience. Please click here for the event posted on the chief organiser's website and here for the event on Facebook. We look forward to seeing many of you there. 
The second Cultural Evening Talk was scheduled on Thursday, 27 February. The topic was 'What Can Happen to your Eyesight and What You Can Do About It' and was very well presented by Dr Nada Jabbur, a leading ophthalmologist in the country. Dr Jabbur went into details on typical eye ailments, eye exams, options for glasses, laser correction and related discoveries in ophthalmology. She also shared with the audience some fantastic images from her travels around the world. Thank you to Dr Jabbur for her very worthwhile presentation and we were glad many of our community were able to attend.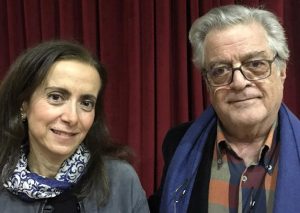 The first of many Cultural Evening Talks took place on Thursday, 23 January 2020. This was an exciting event and programme for us and over 50 people joined us for the first in this Thursday Talks series. Mr Akram Najjar presented to the 50-strong audience on 'How to Solve Puzzles and Understanding Different Puzzle Types'. Thank you to Mr Najjar for his very engaging presentation. Please click here for the full presentation and vast array of puzzles, with the different types explained. Good luck in solving all of them! 
Future events will take place on the last Thursday of each month and be hosted in the lovely setting of our old Quaker Meeting House. We are very grateful to Karaz W Laimoon for their organisation and the school is happy to host these events. Potential topics for future talks in this series include: Photography, The Secrets of Olive Oil, The Cedar Tree Delusion, Seeing With Light, The History of the Universe in 60 Minutes, What (is) the Blues? and The Mad and the Other.