Different class: Sarah Barrett on Brummana High School, Lebanon
Monday, 9 May 2022
Share this article:
Sarah Barrett's article Published in The Friend:
28 Apr 2022 | by Sarah Barrett
'We have every day a good story happening'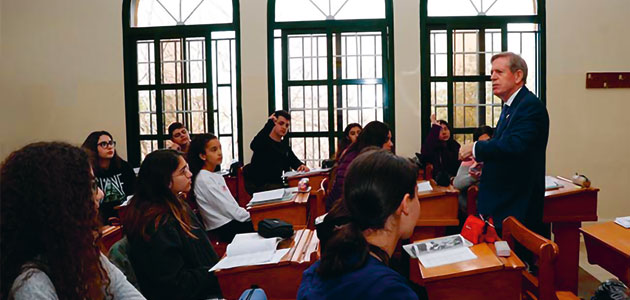 I've just returned from eight days listening to staff, students and parents at Brummana High School in Lebanon, which is owned by Quaker International Educational Trust (QuIET). Lebanon's deep financial crisis is causing huge problems, but there's also much to celebrate. I hope the following excerpts from my conversations give you a flavour of the remarkable work it does.
Old scholar and parent
'The Quaker spirit is here… respect of each and every religion… at school there was never any discrimination. The values are here and it fits everybody very well… I don't know what it implants in you, but it stays forever… if we lose places like BHS, it's not only we lose buildings, it's removing the soul of the place… I beg you to look around, this is an integrated school which is 150 years old… you would lose a lot.'
Teacher
'Only last week we had three or four kids winning a very important competition at the university, in science and maths. Our kids are doing wonderfully in the Model United Nations. We have a lot of people wanting to come here… Last year the International Baccalaureate results were outstanding… the old scholars are being very supportive… we have every day a good story happening.'
Teacher
'Brummana High School is a place where you not only thrive, you become responsible for every single aspect of the community. We go to BHS, we're living in this country and everything is so pretty and so ugly at the same time. Students ask why not leave? I say I personally feel responsible for a change… I feel responsible as an educator… to be there for you.'
Parent
'Brummana makes a difference by their education… we need our children to be educated… it means life for some Syrian refugees… it's the only thing that can save the country and I believe, in fact, the whole region.'
Senior student
'We organised Founders Day… spread the school spirit I would say, recognising the history and dedication to the school that's been shown, which I think is really essential now… just to be rooted back into where the school originated and how we can still present that resilience that they showed, even in such tough times. Students can engage in the school spirit and raise money for charity… it's a really nice tradition.
Friends of Brummana High School (FBHS) and the Trustees of QuIET are raising funds to support the school, which is dipping deep into its reserves. We are also looking for help from volunteer teachers to alleviate the serious shortage of staff in Lebanon.
Sarah is convenor of FBHS. David Gray, principal of the school, will speak at Yearly Meeting on 21 May. Email willh@fwccemes.org for volunteering details.