Blog Article: Food Is Art
Monday, 6 April 2020
Share this article:
By Maya Bechara
Art is usually a way to travel and discover a lot about any culture and civilization. Culinary art has the same effect, only I believe it can trigger more senses than any contemporary painting on a wall.
Sight, smell, sound and taste are not the only pleasures a dish can provide. The way the spices take a tour around a palate, teasing the taste buds, mixing and mingling in an explosive effect, and making us close our eyes and enjoy the trip into the history of each ingredients and each taste from around the world! It fills us with contentment and leaves us craving for more exploration… until our hunger calls us again! We dig into the most amazing, yet simple and necessary experience and we are able to revive this situation for at least three times a day, every single day. How lucky we are!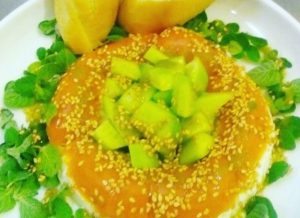 Creamed feta topped with tomato jelly, fresh wild thyme, cucumber salad and sesame seeds.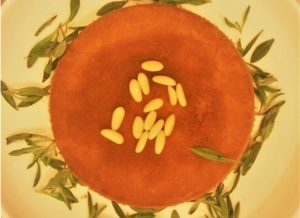 Goat cheese Savory Kneffé, balsamic reduction, thyme and pine nuts.
For me personally, if this is not art, then I'm not sure I know what art is then!
I believe the eyes start eating before the mouth ever does. We are triggered by visuals as much as by smells. Then we taste… we discover… we are surprised… and then we enjoy. First bite… then a second… we start determining our route… where is it taking us? How did it evolve? What else is it hiding? It is a journey!! But I am still seated at my table, in my living room, at my home in Brummana, in Lebanon. On this earth, where walking outside is a gamble during this Coronavirus period… I am not gambling with my life… but, by all means, I am letting my senses gamble alone on a French saucy "duck a l'Orange tonight"! Super tasty!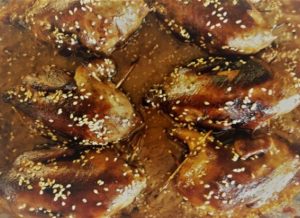 Quail stuffed with foie gras and candied figs, Sweet and sour sauce.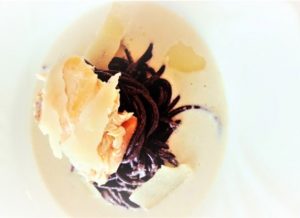 Squid black ink Macaroni, salmon and truffle white sauce.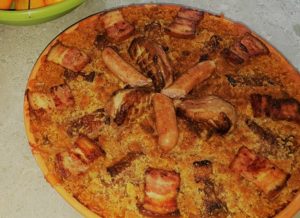 French Cassoulet. Duck, sausages, bacon and white beans.
In my confinement, as Lebanon and the rest of the world experiences the required social distancing measures to hopefully extinguish the Covid-19 virus, I have taken enjoyment in cooking one new dish every day that I have never tried to cook before. Having a big collection of cook books from around the world, I choose with my kids the dishes that can be made with ingredients we find in Lebanon. My children help me in the kitchen, enjoying the process and learning a lot. I will not list here all the benefits of learning through a cooking experience, as I am sure you know many of them, if not all of them even. However, I will emphasize on the fact that my children were having loads of fun and in the end tasting the fruit of their labor.
We also had fun twisting and playing with the ingredients of each dish, adding new possibilities to the dishes whenever we could. In the end, we even decorated one plate in the style served in a restaurant style, making sure to vary between the textures and the colors displayed.
This made me think of the possibilities we have at our school. At Brummana High School we have a very nice and well-equipped kitchen which could potentially receive students for a quick cooking class from time to time. Our chefs are not only fine cooks, producing Lebanese food and international cuisines to a very high standard each week; they are also great people and enjoy mixing with their clients (our students). Inviting students into the canteen kitchen to work with and learn from the chefs could be a lovely activity for both the students and the chefs in my opinion.
Our school canteen caters for almost all grade levels, delivering food to the Infant Section, and serving food in the canteen location to Upper Elementary students all the way to Grade 12. We all have our own favourite meals produced in the canteen. My favourites are the traditional Lebanese dishes they serve up like mouloukhieh, chicken with rice and even shish taouk (with the lovely garlic paste so many Lebanese adore!). Our international cuisine dishes are popular too, and the once-a-month British fish and chips served in English newspaper and with malt vinegar brought from London is a great experience for everyone.
I look forward to returning to school and enjoying the more regular experiences of lunch and food in general at our canteen. Until then, I'm going to enjoy continuing my journey around the food world, discovering new dishes and investing in my palate with my family more and more.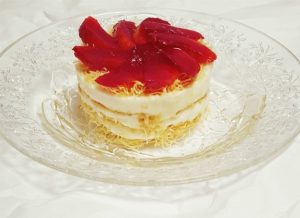 Layers of lavender cream and angel's hair pastry, topped with a poached peach.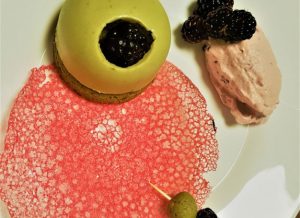 Sablé au macha, topped with a macha and white chocolate dome, blackberry fruit and red fruit ice cream.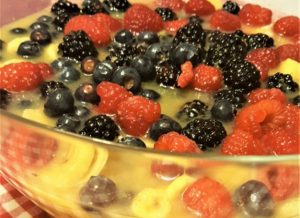 Red fruit salad, banana, mango, orange juice, Gawafa juice, lemon juice and sparkling water.