End of Year With Grade 10LP English
Wednesday, 24 June 2020
Share this article:
Ms Lisette's Grade 10LP English class share here their reflections, poetry and artistic creations at the end of a year like no other. 
Excerpts from different talks about this tumultuous year:
1.Remi: What an unexpected year!
2.Michael: It is unbelievable and depressing!
3.Karly: What a nightmare!
4.Yasmina: Unreal!
5.Miriam: Despite all that, we need to be brave!
6.Ralph: Yes, we should but it is easier said than done.
7.Christina: I don't think anything is impossible! We have to carry on dreaming and achieving.
8.Ali: Yes, we should remain hopeful and optimistic.
9.Christelle: Indeed! It may take time, but that is all we have now.
10.Lenora: And we have each other. Sharing our thoughts helps.
11.Christ: I agree! Our experiences count.
12.Anthony: Guys, is it just me or are you now more reflective?
13.Carina: I am! And more self-disciplined!
14.Christian: One thing for sure, this period has made me more patient.
15.Charbel: Yes, patient and wise. I can now make sounder decisions.
16.Priscilla: And I can write my ideas more confidently.
17.Chaha: And more creatively!
18.Miguel: Well, I know I feel better about myself in many ways.
19.Carl: So, should we be thankful?
20.Marwan: It is a lesson in life!
Everyone: We won't give up. We will make it! We've suffered and still are, but we won't lose hope. September 2020, we are ready for you!
September Hope
September rays, where have you gone?
You gave us hope; we believed you!
You passed the torch, October shone.
Red, white, and green, suddenly flew.
Voices rose amid much weeping;
Friendships were born, promises made.
And though panic started seeping,
We held the fort; we fought and prayed.
Time, however, set up its mast,
Bore fear aboard, sinister foe.
Anchors were thrown at one full blast;
How death started, we did not know.
Sorcerer in a magic show
Stunned our slumber into dread.
Dark notes were played: drum, string and bow.
Faces vanished, one look was held.
Hours went by like years of youth.
Machines breathed in our voices;
They masked our tears, hid the truth,
Offered us "Teams" of many choices.
Time lapse! Suddenly the show ends!
Goodbyes and tears, wishes, regrets.
Weird world of virtual laughs and friends!
June sails away, fate plays its bets.
September, please, unmask your smile;
Piteous faces in masks they dwell.
Unsheathe your sword, destroy that guile,
Shatter the doors of viral hell.
-Ms Lisette, HOD English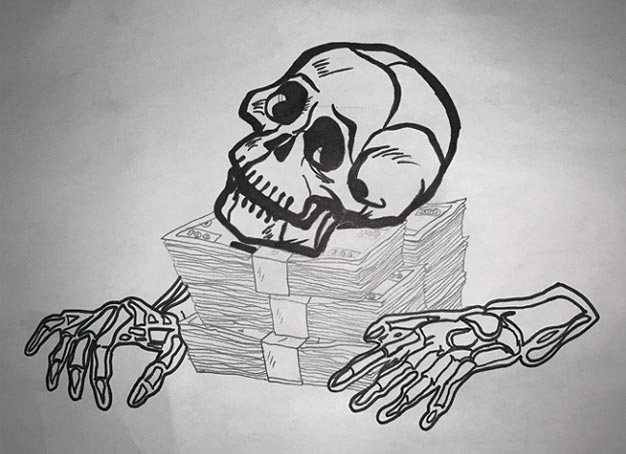 -Anthony M.
Not Myself
They say:
"Devour anything that comes in the way of your success"
But at what cost;
At what cost must I lose my friends and myself?
At what cost must I replace my health with my wealth?
Desperation, misery, lack of admiration
To anyone or anything around me
Not even to myself,
That's how I realized
At this point, I don't even know who I am
I miss the feeling of being complete
But I guess I deserve it
Because I took what I had for granted
And now I'm stuck, lost in my thoughts
On what could've and should've been done
I dream of having my true identity back
But even there, I can't seem to find myself
Who am I? What have I become?
I've changed. I'm no longer the person I once was.
I'm slowly turning into my own nightmare.
– Priscilla F.
The Pact
Prosperity I sought and I found in you
Never understood why our pact was a taboo.
Power, wealth, and fame; all too good to be true;
Didn't realize your skin was blue!
So full, yet devoured my innocent soul as your plot brew,
And people with the same flaws stood in a queue.
Insatiable an appetite, "Came because of that too?"
Couldn't help but wonder if the deal served me or glorified you!
My soul was sucked out of my body, and at that moment I knew
Got too big in the head, bit off more than I could chew.
In wit, strength, and seduction Lucifer grew;
Told me "I got what I wanted from you."
I guess now I've got to paddle my canoe
Out of that silver-tongued mastermind's Catch-22.
At the end of the day, what I got is what I did pursue.
I've got to pay The Devil all that is due.
Living at his mercy, immortal I chose—if that I could undo!
Should've known that he who gives all can take all too.
-Carina H.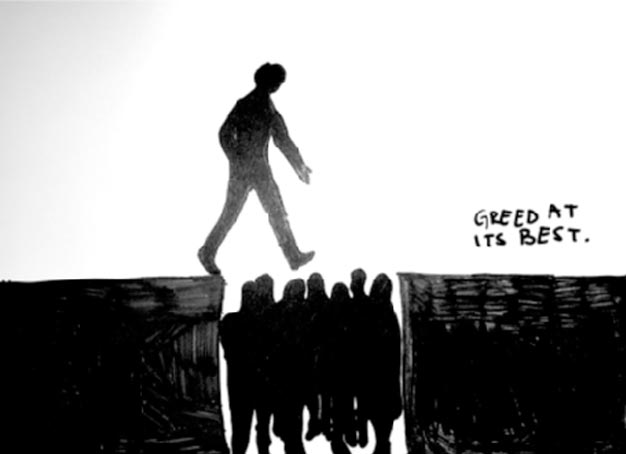 -Yasmina E. G.
Contentment will not kill your ambition; it will not make you collapse. Instead, it will rejuvenate you internally, make you understand how far you can push your potential.
It is not about being satisfied by your contemporary state nor about not willing to work harder. It is all about being delighted by your blessings and acknowledging your power.
How will you even succeed if you do not recognize your ability? Self-satisfaction yields wisdom, the wisdom to acknowledge your capability. You need to be content to know how hard you can work without harming yourself or others and without disregarding your morals. When you are elated, you are motivated, and that is when you truly prosper.
-Christina R.