New Head of Secondary Section
Wednesday, 6 October 2021
Share this article:
Our new Head of the Secondary Section, Hani Khalife, has arrived and began work on Monday the 4th of October. We are delighted to welcome him to BHS and hope that all members of our community will take the opportunity to meet him when they can.  He arrives full of commitment, enthusiasm and with a real interest in young people from which our students will be the beneficiaries.
Mr. Khalife has a Bachelor of Arts degree in Law and has undertaken similar roles to the one to which he has been appointed, in Abu Dhabi, where he was Head of Pastoral Care and of the students' advisory team at the Abu Dhabi International Private School from 2008 until 2017. He was Dean of Students and Head of After School Activities at the Al Qalaa Secondary School in Saida, Lebanon, an International School, from 2017 until 2020 and then most recently until 2021 held a similar post to that of the Head of Secondary Section al Al Shomoukh International School in Oman.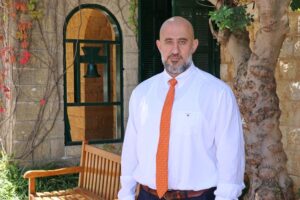 Hani has wide experience of working with young people and has developed strong relationships both with staff and with students in a number of schools in the Middle East in recent years.  He is likely to provide clear leadership for the Secondary Section at BHS and is keen to get to know students, parents and staff as soon as possible.