Online Meeting with Ipsos Lebanon's CEO
Wednesday, 23 March 2022
Share this article:
BHS Marketing Manager, Richard Bampfylde, and Kareen F., Head Girl and IB2 student, had an excellent meeting with Ipsos Lebanon's CEO, Joseph Habre. Richard and Kareen were very grateful for Joseph's time, thoughts and suggestions, as they presented the school briefly and then learnt what support may well be available from Ipsos Foundation for BHS students. 
A big thank you goes out to Friend of BHS convenor, Sarah Barrett in the UK, for introducing the school to the Company and Foundation via their Global CEO Ben Page. We are very grateful for his support also.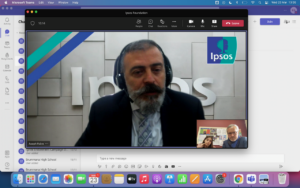 The next steps are BHS speaking and working with Ipsos' communications specialist to develop a proposal for submission to the Foundation in June. We thank Dalia Ghawi in advance for her kind support in the preparation of this document. Joseph is also happy to remain involved in the process and Richard and Kareen took the opportunity to invite him to join us on campus sooner than later. No doubt he would be an inspiration to BHS students at an Assembly, perhaps raising awareness on Ipsos Lebanon's great work and achievements despite the incredible challenges over the last two years and more. In October 2019 Ipsos had 130 employees in the country and, thanks to Joseph's leadership and the passion and commitment of staff, every single person and position remains at Ipsos Lebanon, a remarkable achievement through the crises. 
BHS Head Girl Kareen did a fantastic job, not only preparing and sending the original introductory letter to Ipsos' Global CEO but also in presenting during the meeting from a student's perspective, sharing what BHS offers and what the school means to her, and how we are all trying our best in such challenging times.