Principal's Letter to Parents – 6 January 2023
Monday, 6 February 2023
Share this article:
Dear Parents,
Let us all stick together as the fierceness of winter, national uncertainties and rocketing inflation and a sliding lira continue to afflict us all.  We are all affected by the recent loss of a little child in the school.  May his soul rest in eternal peace.  Our thoughts and prayers remain with his parents and family at this time of indescribable pain, grief and mourning for them.  It is time for us to pull together as a community and help each other out of sensitivity and compassion for each other.  We are sent many trials in life, the most recent being a serious earth tremour; we can face them and overcome them together, God willing.
Our purpose here, at Brummana, is to continue to provide for the needs of all the students in our care, whether academic, pastoral or personal.
Bullying / Social Media  
Taking advantage of others out of malice, perceived weakness, or just because "it was only a joke" is unacceptable  and will not be tolerated.  Bullying is one of those traits of human nature which must be suppressed in favour of tolerance and acceptance of others in any society which aims to be fair, equitable and happy.  So it is at school, a microcosm of society. 
I would ask you as parents to join us in discouraging and outlawing bullying behaviour.  We do everything we can to help young people to understand the hurt and misery they can cause by being unpleasant to others.  Equally if those bullying are caught doing so they may be suspended from school or, in extreme cases, removed permanently from school.
Bullying nowadays happens increasingly on social media.  Please be vigilant about how your children are using social media and be aware that not all their activities may be innocent.
We need you to work with us on this very serious matter in order that all children at school, irrespective of their background, creed or personality feel safe, happy and can thrive.  No school is without bullying, but we must be aware of it and do all we can to encourage tolerance and the awareness that we all need each other.
Visit of QuIET
We were delighted to receive Trustees of the Quaker International Educational Trust recently to Brummana.  QuIET own the school, buildings and campus of Brummana High School and our Governing Body works closely with them.  In general they come to visit Brummana twice a year to hold meetings, meet with the staff and often the students, and take the opportunity to look around the school and see new developments.  On this occasion they were able to admire the refurbishment of our libraries thanks to the legacy of a Quaker from England, and to enjoy the excitement of the Academic Fair at the end of January, while also announcing the establishment of the Lesley Parker award for the best scientific project at the Fair which will be presented annually from 2023 onwards.  In all, seven Trustees visited Lebanon, some for the first time and offered their full support to the school as we struggle through the current crisis.  QuIET have also been instrumental in charitable fundraising efforts in the UK on behalf of Brummana High School and have been responsible for raising substantial funds for which we are grateful.
Intermediate Section Parents' Evening
Thank you to all parents who attended this very busy evening.  I am sorry that many of you had to wait for lengthy periods of time before seeing teachers.  We are looking at devising a system which will allow parents to make online bookings in future and which will make these occasions smoother and more manageable for both parents and teachers.  Your patience was appreciated.
Forthcoming Events / Dates for your diary
Please note that Thursday 9th February  is Mar Maroun.  This is a national holiday.  There will be no lessons for any classes on this day and school offices will also be closed.  School will resume and offices will be open on Friday 10th February when there will be a full day's lessons KG1 – Grade 12.
Next week is the Mid Year break. There will be no lessons for KG1-Grade 12 from Monday 13th February until Friday 17th February inclusive.  School lessons for all classes will resume on Monday 20th February.  Offices will be open throughout the days of the Mid Year break.
You will find below an updated calendar for the school's 150th anniversary year.  Specific dates have been added for planned events.  Changes from the last calendar are highlighted.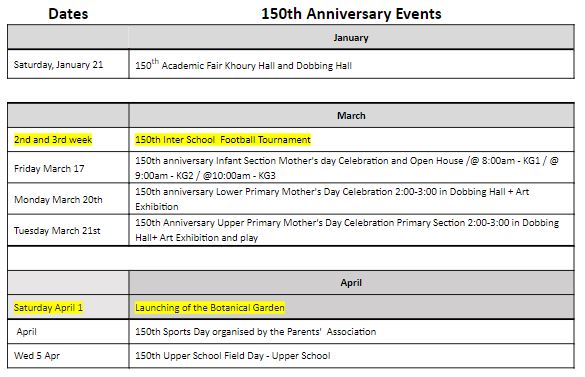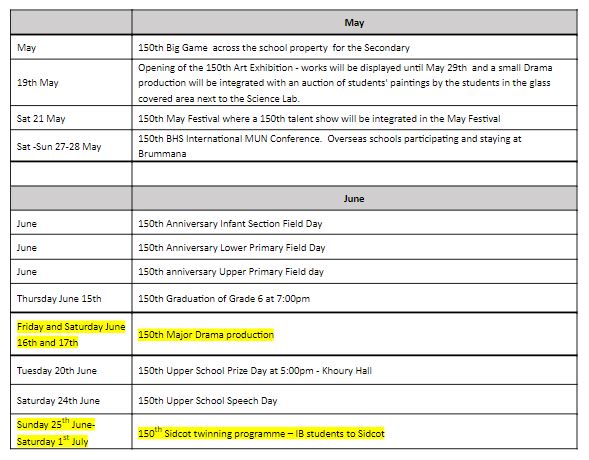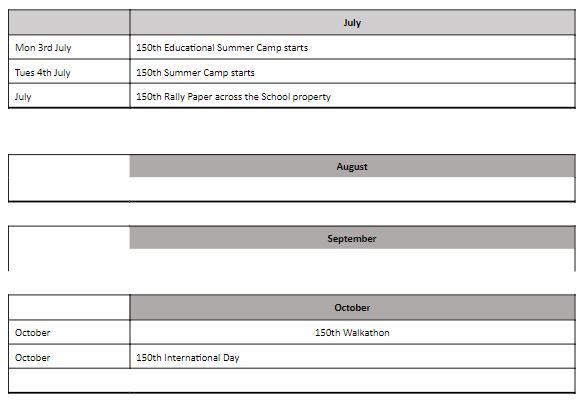 Please note that school will be open each day unless you receive a text message or email saying that it will close. The default position is always that school is open and students should come to school providing it is safe to do so.
 I would like to take this opportunity to wish you and your families a peaceful and pleasant Mar Maroun and Mid year break.
Yours sincerely,
David Gray
(Principal)