The Black Lives Matter Movement
Monday, 10 May 2021
Share this article:
By Stephanie Z. – IB1
Rage, disgust and fear. These are just some of the emotions felt because of the inhumane acts of police brutality, racism, and discrimination faced by people of colour world-wide. Their reality is shocking when parents have to educate their young children on how to act if the police were ever to approach them, when 1 in every 1000 black men can expect to be killed by the police, when 1004 men were shot by police in 2019 alone, and when the several unfortunate deaths in 2020 resulted from continuous prejudice and a corrupt and racist justice system. This is their reality. Black people have been continuously wronged in the past and demand equality and the rights they deserve – thus leading to the Black Lives Matter Movement.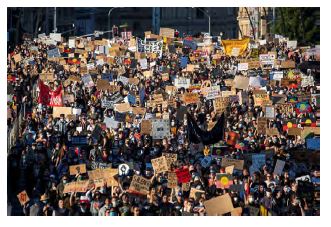 Black Lives Matter, also known as BLM, is a political and social movement protesting against incidents of police brutality and all racially motivated violence against black people. The movement began in 2013, following the shooting death of an African American teen, Trayvon Martin, 17 months earlier in February 2012. However, the movement has now risen in 2020 following the murder of George Floyd. An estimated 15 to 26 million people participated in the 2020 BLM protests in the United Sates and is reported by Civics Analytics to be one of the largest and most influential movement in U.S history. As a result of such a monumental movement, several significant changes for the better have resulted from the BLM movement – economically, socially, politically and emotionally.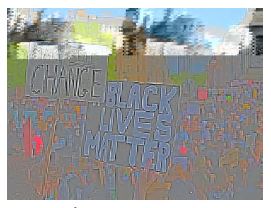 The BLM movement has brought necessary attention to the reality black people face in their everyday life. A positive change that has been brought about is the support of small, black-owned businesses. Supporting these businesses has been indicative of support of the Black Lives Matter movement and in pursuit of balancing the financial needs of entrepreneurs and business owners alike. It is also an effort of balancing the financial scales between white-owned and blackowned businesses in order to promote equality economically. This initiative is desperately needed due to the lack of impartiality in black business ownership. Of the 5.7 million US firms, about 124,00 (a little more than 2%) were Black-owned in 2017 (Schouten, CNN). However, due to the uprise in the BLM movement, the Bank of America has pledged 1 billion dollars over four year to address racial inequality, NASCAR has banned the Confederate flag from its events and properties, Ben & Jerry's called for Americans to "dismantle white supremacy" and many social-media influencers have turned over their accounts to Black Business owners. This massive support has benefited many and we have to ensure this growth is sustained in order to ensure long-term equality financially for people of colour everywhere.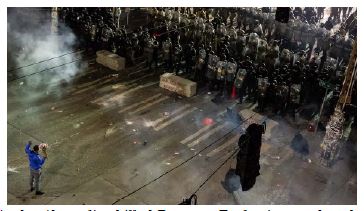 Furthermore, the BLM has made a long-lasting global impact on the significance of racism and discrimination. For too long, ethnic  minorities have been denied equitable access to opportunities, services and fundamental human rights. However, as a result of the BLM protests, they have inspired a number of laws. Although we shouldn't recognize or judge a movement by its legislative power, it is important to acknowledge the changes towards a more equal future. For instance, in Louisville, Kentucky, the police killed Breonna Taylor in a no-knock warrant, by shooting her. Since then, on May 30th, the mayor suspended the no-knock practice and the Public Safety Committee unanimously approved the "Breonna's Law". People have also seen the true colours of police forces when they disrupted many peaceful protests. On June 6th, a survey in the form of a spreadsheet about police brutality was brought to light by activists. In fact, 59% of those surveyed said they found police violence more troubling than protest violence, as opposed to only 27% who felt the other way around. It was also reported by the New York Daily News that a survey found U.S. citizens' approval of police officers had dropped 10% in that same week. Researchers have stated this movement is monumental and a unique moment in American history.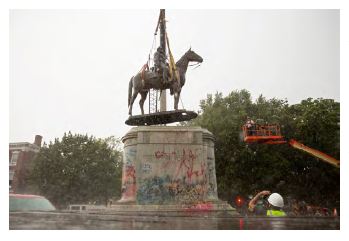 This movement has also changed politically for the better. Since 2016, when Donald Trump was elected at the president of the United States, black activism and racial justice has been misguided; yet the BLM movement has persevered despite this. Some examples are: four days after killing George Floyd, police officers at the scene were charged with second-degree murder; Minneapolis lawmakers vowed to disband the city's police department less than two weeks after Floyd's death; Mayor Bill de Blasio of New York City pledged to move funding from the city's police toward youth and social services; and new databases have been set up to collect video footage that documents police violence at demonstrations. Symbolic actions have also been undertaken such as the toppling of several confederate and slavery-linked statues such as statues of Confederate President Jefferson Davis, Columbus, Raphael Semmes (an officer in the Confederate navy during the American Civil War) and many more as an act of rewriting history and having a clearer focus for the future of cities.

Moreover, the movement that evolved from a hashtag into a global movement has massively impacted people emotionally and reminded of the importance this movement plays in our lives through various forms. The main emotion was of resentment towards America's anti-black past and present, police brutality, social inequality and many others. Pertinent figure former US president Donald Trump controversially tweeted 4 days after George Floyds death, "These THUGS are dishonoring the memory of George Floyd […] when the looting starts, the shooting starts. Thank you." Such degrading statements and usage of words only supported the reason why protesters began demonstrating in the first place: to fight such racial demonization and inequality. Addressing demonstrators as 'thugs' goes to show how degrading and malicious the image associates with criminality and discriminates the black race entirely. In addition, the use of social media has impacted the movement through the activism shown internationally in support. Many posts, such as on Instagram, have received millions of likes, comments and shares in order to promote awareness. This movement is a rallying cry, backed by emotion that represents the continuous injustice black people face. It's to eradicate white supremacy, to build local power, to remember the victims of racism and prejudice, to unite hand in hand as one force to demand the rights they deserve. These emotions are indescribable and are a driving force of power for this significant movement.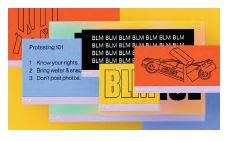 To conclude, this movement is one that has not been seen before, one that caught the eyes of everyone. We can only show our support by spreading strong messages to raise awareness, educating ourselves and others on racism, reaching out to people of colour we know to ask how they are coping during such an emotional time, evaluating ourselves and making necessary changes. We must never forget this movement and not stop fighting. We are all human and deserve equal rights and with such a strong drive the BLM movement embodies, there is hope this change is for all the better.
---
Works Cited:
– https://edition.cnn.com/2020/06/20/politics/black-owned-businesses/index.html
– https://thegeopolitics.com/the-global-impact-of-the-black-lives-matter-movement/
– https://www.businessinsider.com/13-concrete-changes-sparked-by-george-floyd-protests-sofar-2020-6#a-police-officer-involved-in-the-fatal-shooting-of-breonna-taylor-in-louisvillekentucky-has-been-fired-more-than-three-months-after-her-death-3
– https://www.transformingsociety.co.uk/2020/06/26/reading-the-emotions-of-black-livesmatter/
– https://www.nbcnews.com/news/nbcblk/movement-slogan-rallying-cry-how-black-livesmatter-changed-america-n1252434