The Introduction of Women in Politics
Monday, 10 May 2021
Share this article:
By Thalia K. – SEC III LP
"The true republic: men, their rights, and nothing more; women, their rights, and nothing less." – Susan B. Anthony, American women's rights activist.
As long as women are not present in political procedures, democracy and development will remain an illusion. The gender gap in politics is still prominent today, despite the policies and legislations put in place. In Lebanon, women account for 4.7% of the parliament; globally, it reaches 25.5% (by combining the lower and upper houses of parliaments). However, women's progression in politics begins with awareness. Insights in political movements and achievements are essential to recognize the importance of women in power.

The Women's Suffrage Movement
Suffrage is the right and privilege to vote during political elections.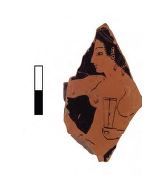 Democracy all began in Ancient Greece, particularly Athens, in the 5th century B,C.. Citizens (starting from 18 years old) were encouraged to vote for governmental policies and jurisdictions, directly and equally. However, the conditions to vote did not demonstrate equality. Athenian women were not allowed to own property, engage in elections, and partake in the government. In reality, women, slaves, and foreigners were not considered citizens and had no way of becoming one. The percentage of men,  specifically citizens, was significantly lower than the rest (approximately 10% – 30% of the Athenian population).
Modern Suffrage Movement
Despite the reintroduction of elections in the 17th century, women got excluded from any voting procedures. Suffrage movements have sparked worldwide, to raise awareness on the rights that women never had and how that was no longer an option.
WORLDWIDE
UNITED STATES OF AMERICA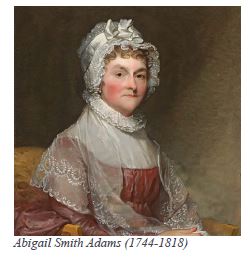 "Remember the Ladies," she said to John Adams, her husband and second president of the US, as he was establishing the American laws. He had disagreed with her proposal, as he considered that people who do not own property should not be able to vote. Up until 1776, votes were limited to landowners; that regulation excluded women and men of different ethnicities. New Jersey, however, decided that anyone – men or women – who owns a specific amount of land is eligible to vote. In 1807, that changed to only permitting tax-paying, white males to vote.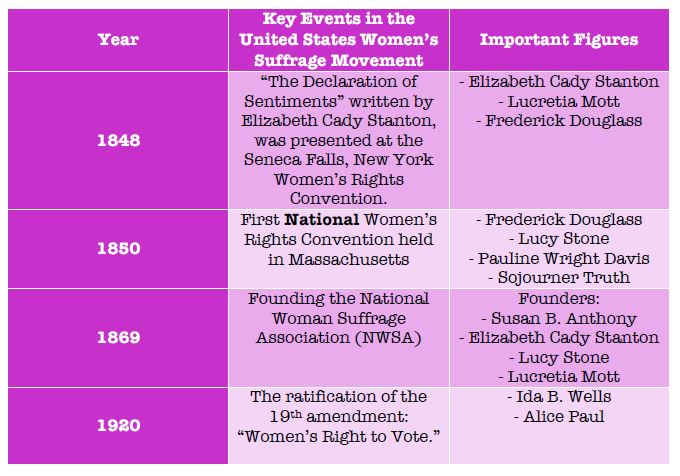 LEBANON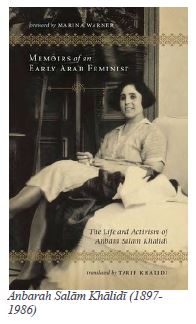 1920: "when feminist activity began to take institutional shape, and Lebanese women's societies began to thrive." Anbarah Salam Khalidi, one of the most prominent Arab feminists, had mentioned the importance of women's participation in her memoirs. But most importantly, she made it loud and clear to all Lebanese people. Khalidi founded the Awakening of the Young Arab Women Association in 1914 to finance women's education. In 1920, female associations began the fight for women's political and civil rights. The Women's Union in Lebanon and Syria, being one example, advocated for fundamental female positions in political, cultural, and social sectors. Despite the reforms, women are still not fully independent in citizenship procedures.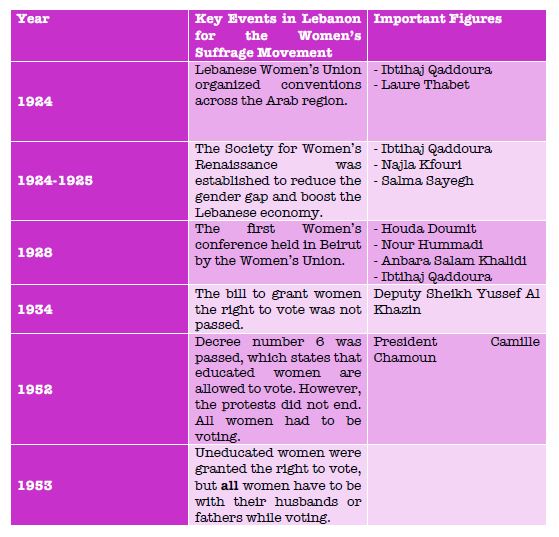 KEY FACTS ABOUT THE WOMEN'S SUFFRAGE MOVEMENT
Women globally took the initiative, starting with the International Council of Women, the first international NGO for women's rights. It was kickstarted by no other than Susan B. Anthony and Elizabeth Cady Stanton in 1888. However, some women wanted to take matters into their own hands to ensure that they receive their rights. In 1904, the International Women Suffrage Alliance (IWSA) got established for that purpose. The founder is Carrie Chapman Catt, who was also president of the council and a strong advocate for women's liberation. Situated in London, it now goes by the name of International Alliance of Women. It has actively participated with the Council of Europe, the African Union, the Arab League, and many others. Other key facts about the women's suffrage movement are as  follows: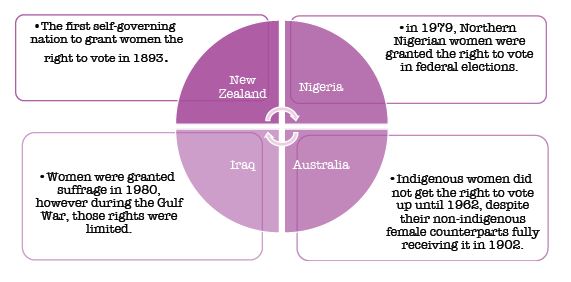 Powerful Women Politicians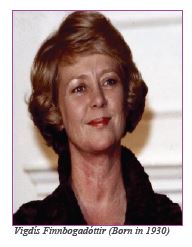 Vigdís Finnbogadóttir was the first woman in the world to be democratically elected. Serving as the fourth president of Iceland beginning of 1980, Vigdís was known for promoting Icelandic culture on a national and international scale. Using her career as a UNESCO Goodwill Ambassador, she made sure the world knew about the rich Icelandic traditions. Not only was Finnbogadóttir the first woman elected for president, but she was also the first to be reelected three times (she served a presidency of 16 years). She said: "I just wanted to prove a woman could run." And so, she did, not only to men in office but also to aspiring women. Women began increasingly participating in politics since then, thus making Iceland the world leading nation in gender equality. In actuality, it ranks first in the Global Gender Gap index as of 2020.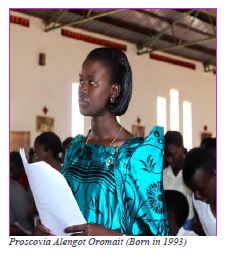 Proscovia Alengot Oromait was the youngest Member of Parliament in Uganda and Africa as a whole. She was 19 when elected in September of 2012; being inspired by her deceased father, she used politics to advance the social, environmental, and health policies in Uganda. Many doubted Alengot, for she was merely a high school graduate at that time. However, she put it right past her as she continued to balance school and politics. When asked how she can do so, the young politician responded with: "Because I am a Christian, I do not booze (take alcohol). My free time is for the Bible and reading my novels…that is how my life is". A well-motivated woman, she has demonstrated to the world the importance of women – and young people – in office.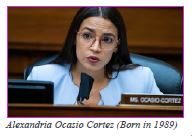 Working at a bar to support her parents' income, Alexandria Ocasio-Cortez became the youngest person in the 116th Congress. Some of her achievements include passing legislation to dedicate $5 million for opioid addictions, drafting more amendments than 90% of freshman lawmakers, coming up with the Green New Deal with the help of Senator Ed Markley, and more. Besides her many contributions, she stands up for herself and other women amidst rude comments. "It is cultural. It is a culture…., accepting of violence and violent language against women, and an entire structure of power that supports that," she says about how she has heard multiple insults from congressmen. Refusing to be silenced, the Latina congresswoman has become a renowned role model for female politicians.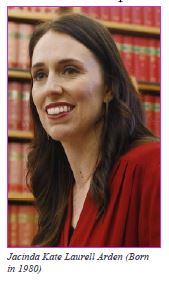 Jacinda Ardern, the youngest female prime minister of New Zealand, is proof that a feminist approach to the COVID-19 pandemic is necessary. She immediately caught on to the crisis by closing New Zealand borders and announcing a nation-wide lockdown of 102 days. Even after several cases located in Auckland later on, the government opted for another lockdown. Her government's quick approach has made it one of the best global responses against COVID-19. "There is no widespread undetected community transmission in New Zealand. We have won that battle. But we must remain vigilant if we are to keep it that way," Arden says. Aside from her success in resolving the pandemic, Jacinda has marched in a New Zealand pride parade (making her the first New Zealand PM to do so) and has altered gun laws upon the 2019 mosque attacks. An inspiration to working mothers, she is the first leader to go on maternity leave.
Despite the many reforms done for women in politics, women of color remain the most marginalized during political procedures. However, with the growing awareness of how female politics came about, silence is no longer an option in the face of discrimination.
"We cannot change what we are not aware of, and once we are aware, we cannot help but change." – Sheryl Sandberg.
---
Works Cited
– Admin. (2021, March 10). Women in politics Map 2021. Retrieved March 20, 2021, from https://www.iknowpolitics.org/en/learn/knowledge-resources/women-politics-map-2021
– COVID-19 (novel CORONAVIRUS). (n.d.). Retrieved March 20, 2021, from
https://www.health.govt.nz/our-work/diseases-and-conditions/covid-19-novel-coronavirus
– Facts and figures: Women's leadership and political participation: What we do. (n.d.). Retrieved March 20, 2021, from https://www.unwomen.org/en/what-we-do/leadership-andpolitical-participation/facts-and-figures#_edn13
– Hivos timeline HIGHLIGHTS UNSUNG women heroes in Lebanese history. (2019, July 01). Retrieved March 20, 2021, from https://hivos.org/news/hivos-timeline-highlights-unsungwomen-heroes-in-lebanese-history/
– Jacinda Ardern. (n.d.). Retrieved March 20, 2021, from https://www.britannica.com/biography/Jacinda-Ardern
– National Geographic Society. (2019, March 15). Democracy (ancient greece). Retrieved March 20, 2021, from https://www.nationalgeographic.org/encyclopedia/democracyancient-greece/
– Proscovia Alengot Oromait is AFRICA'S youngest ever LEGISLATOR. (n.d.). Retrieved March 20, 2021, from https://www.pri.org/stories/2012-09-19/proscovia-alengot-oromait-africasyoungest-ever-legislator-video
– Vigdis finnbogadóttir former president of Iceland, Club MADRID MEMBER. (n.d.). Retrieved March 20, 2021, from http://www.clubmadrid.org/miembro/vigdis-finnbogadottir/
– What is iaw. (n.d.). Retrieved March 20, 2021, from https://www.womenalliance.org/what-isiaw/
– Women's suffrage. (n.d.). Retrieved March 20, 2021, from
https://www.britannica.com/topic/woman-suffrage
– Worldwide women's suffrage timeline. (n.d.). Retrieved March 20, 2021, from https://www.wilsoncenter.org/article/worldwide-womens-suffrage-timeline