Upper School Counseling Services: Crisis Debriefing
Tuesday, 17 November 2020
Share this article:
As part of supporting the students' transition back to being in school, The Upper School Counselor is working closely with the advisors who will be offering Crisis Debriefing sessions during advisory periods in Hybrid fashion.
Crisis Debriefing is a structured time where the students can talk, listen and put into context the exceptional circumstances that have occurred in the last year (The Beirut Blast…). This will help them process their experience and will connect them to others who are also impacted by the same events.  Other than emotional support, the aim of the debriefing is for the students to learn about common reactions to traumas, to explore self-care strategies, and to build on coping skills.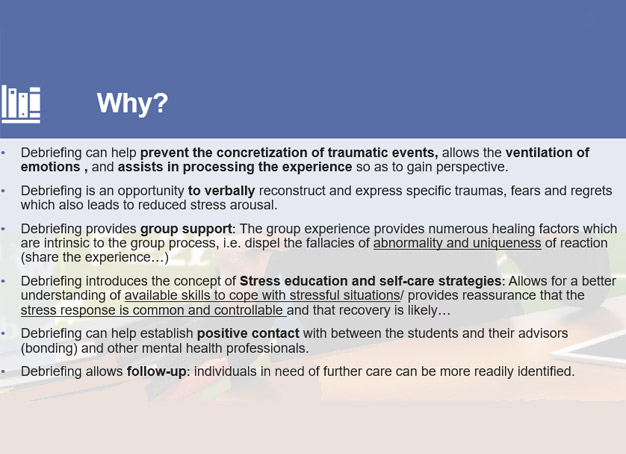 The role of the school counsellor is to promote and support the wellbeing of the students, in a caring and supportive environment. During these difficult times, and since Hybrid Learning is again postponed, We are aware that the need for students to be able to access a school counsellor may now be more than ever before, hence the Upper School Counselor sent(/is in the process of sending) a Teams message to every Upper School student to remind and encourage them on seeking the counseling service where they will receive support and validation while tackling different areas in which they may be struggling.

The counsellor's communication to each Intermediate student on Teams messages will read:
Dear (write name),
I am Sarah Hanna the Upper School counsellor and I hope you are doing well.
I want you to know that you can reach out to me whenever you want. You may simply wish to talk, to share your personal feelings, your fears, or your challenges during these difficult times. You may want to ask ​questions or seek advice.
We have offered remote counseling since the first lock down, and it has worked successfully with many of your peers.
Remember, I am here to support you!
For more information click below:
> Presentation Crisis Debriefing for the Upper School Advisors
> Crisis Debriefing Presentation for Sec. students during Assembly with VPP