US Trip – Tuesday, 25 October
Thursday, 27 October 2022
Share this article:
BY David Gray
Having arrived at the East India Club in St. James square in London just before 2:00 AM after a delayed flight from Newark – New Jersey, I woke up somewhat disorientated to a London Autumn morning which was mild and not unpleasant.  I spent some time in Waterstone's bookshop searching out books that I had ordered, some of which have been delivered to the club and some of which remained in the Bookshop and some of which had not been delivered at all.  Tomorrow is another day when I shall go and search for what is missing.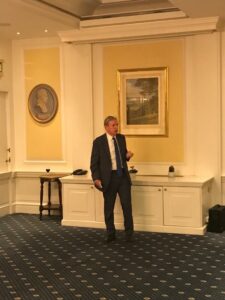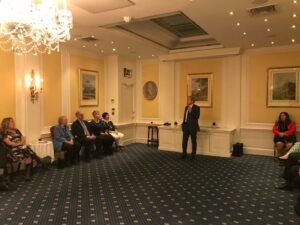 In the evening, Richard Bampfylde and I welcomed about 40 guests to an occasion in the club to thank donors in the UK and to invite others to contribute to our fundraising campaign. I spoke about Lebanon, about the school, about our needs and about our difficulties and the audience was uniformly sympathetic. In addition to me, there were other speakers including Jim Shaw who taught at Brummana High School during the civil war and who is an ardent supporter of the school and Sarah Barrett and Simon Manasseh, both of whom have been keen to help the school in which ever way they can.  Sarah visited us early in the year and Simon, who  is the cousin of Tony Manasseh, is doing a triathlon on Friday with the aim of raising 10,000 GBP for Brummana High School. Both of them love the school and want to do their very best to secure its happy and prosperous future.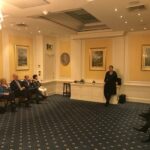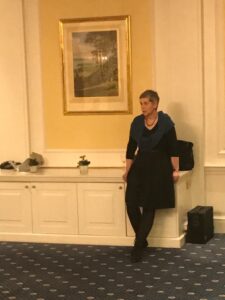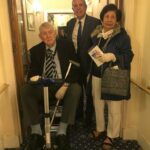 Finally, there was William Zard, who had studied in London and who spoke eloquently about his time at Brummana and about the respect that he felt for  teacher in nurturing his ability and in understanding the students.  My son and his girlfriend and my stepdaughter and her husband also attended and we went out for dinner afterwards which was a nice family reunion. The day ended late, by which time my jetlag had almost passed.  It was, I felt, a successful day but as always it is the follow up to these events which is really critical.