Visit of the Embassy of China for Duanwu 2022
Wednesday, 15 June 2022
Share this article:
After two and a half years of communications and activities with the Embassy of China in Lebanon (including celebrating Chinese New Year and the 50th anniversary of China's diplomatic mission in the country), Friday, 10 June witnessed something truly remarkable…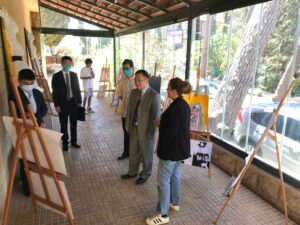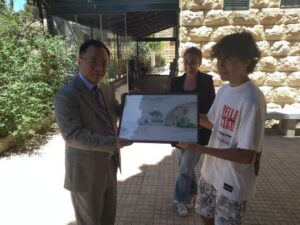 In planning since September 2021, with teaching and learning for this project starting after Easter in the Grade 9 Robotics class led by Mrs. Nado Chelala, Design and Technology Teacher, the concept of the Chinese Dragon Boat Festival (Duanwu) and engagement to create BHS 'vessels' as student group projects was realised and showcased to visiting Chinese Ambassador Qian Minjian and Cultural Attaché Kunsong Yin, amongst other Chinese Embassy dignitaries, including Mr. Ma Tianchong, visiting us on campus around lunchtime on the Friday. The students worked extremely hard throughout this project-based learning module, from investigating the festival and selecting their dragons to designing and building their 'boats' all the way to presenting them to our visitors with great aplomb.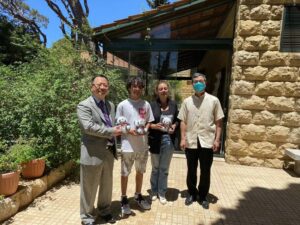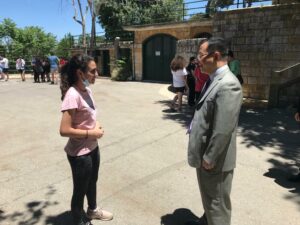 The Chinese dignitaries were welcomed on campus at the Main Gate by Marketing Manager Richard Bampfylde and guided through the very impressive Art Exhibition at the side of the Meeting House by Head of Arts and Crafts Maya Bechara and Grade 11 student Roger N. Indeed, Roger was even able to present one of his paintings as a gift to Ambassador Qian which was framed and well-received. Mr. Yin was also gifted a student artwork project by Joanne C.
The visiting party were then given a tour of the upper driveway, learning about the Mother Tree and also the historic MTB and Library buildings. Ambassador Qian then spoke with Head of Careers Caline Kouyoumjian about the guidance provided to students as well as where graduates tend to study following their time at BHS. Perhaps Chinese universities can be promoted amongst our students in future too.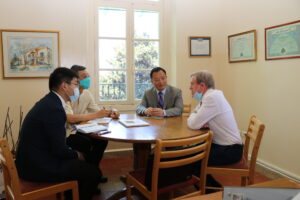 Principal David Gray then met with Ambassador Qian and Embassy visitors in his office, where they discussed the strong relationship between the school and Embassy, China's economy, tourism opportunities in the country and BHS students. Mr Qian shared how impressed he was by BHS students, especially Michelle A.H., who he had spoken with on the driveway about her BHSMUN experience, remarking how confident and respectful she was. He said he was also very much looking forward to the dragon boat races and seeing how technology had been connected with Chinese culture. Principal Gray presented Ambassador Qian with a BHS First Day Cover Lebanese stamp and the Ambassador presented the Principal with a traditional Chinese tea pot.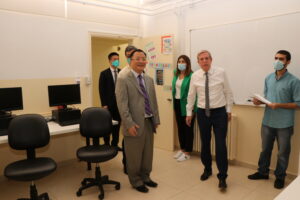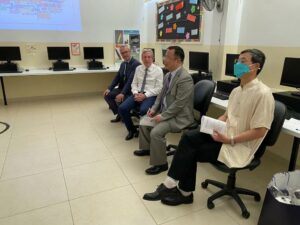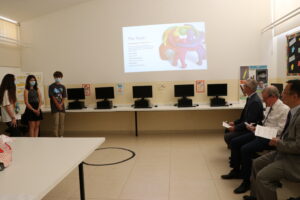 It was then time to go to the Arts & Crafts Centre and the robotics classroom. The visiting party were greeted by Nado, Instructor Elias Haddad Barouky and the nine Grade 9 students very excited to present and race. Ms. Nado had prepared a rubric which the Ambassador, Cultural Attache, Principal and Marketing Manager used to judge the presentations, on skills, content, knowledge and art. All presentations were amazingly impressive and showcased how students had learnt how to implement the design process -planning, researching, designing, building, testing and evaluation. Afterwards, it was time for the race… All three vehicles were lined up in the mini-gym next door and then set off, racing (slowly) to cross the finish line…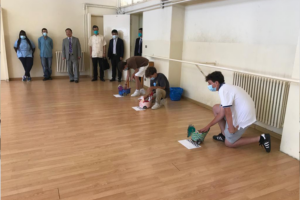 The school would like to thank Ambassador Qian and Embassy staff for their visit and also for the very special gifts they brought to campus for the students and other BHS members they met with.
Here's to the next Chinese festival celebrated by Brummana High School in 2022-2023!