Special Memories: Remembering and Creating New Ones!
Thursday, 7 July 2022
Share this article:
The school was extremely happy to welcome back on campus David Nassif '73 and wife Silvana Karam Nassif, who studied at BHS for a year herself, on Friday and Monday, 1 and 4 July. It is very special whenever we are visited by Old Scholars. 
Dr. & Mrs. Nassif had visited the OSA offices and then decided to pass by school on the Friday afternoon, before returning on Monday late afternoon for a tour, and then staying on for Speech Day 2022. The school was very glad they accepted the last two tickets, given impromptu on the Friday, and were able to enjoy the remarkable graduation event, held now for the 149th time. Despite flying back to Bahrain the next day, it was an event they said "they simply couldn't miss!"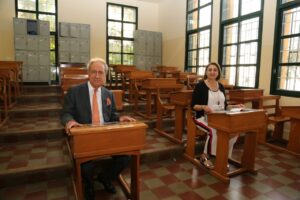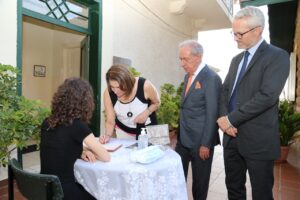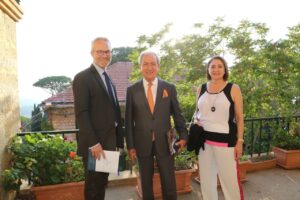 It was very clear to all those in the BHS community who met David and Silvana the amazing passion they both still had for the school and also how clear their memories were from their days on campus. 
After leaving BHS, David went on to study at the University of Newcastle and then read and completed his PhD in Chemical Engineering at Imperial College, London. He spent many years at the Bahrain Petroleum Company, eventually becoming BAPCO Chairman and CEO and leading this important and very substantial business in the Kingdom of Bahrain.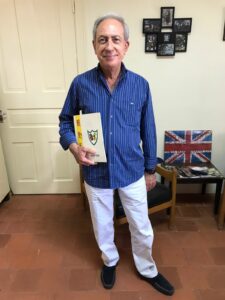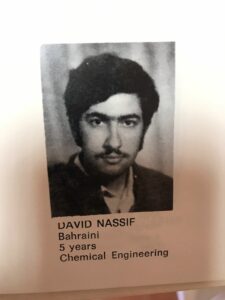 David and Silvana live in Saar, a very pleasant, residential area of Bahrain. Their children studied at St. Christopher's School (another Top 10 Middle East school, like BHS, Carfax Education 2021), and indeed both went on to study in the UK also. Their daughter studied at Oxford, whilst their son turned down Cambridge to study at Durham, where he felt there was a stronger programme for what he was specifically interested in. Both children have gone on to become very successful lawyers, working in London. Indeed, their son has just become the youngest partner at Freshfields, Fleet Street, at the remarkably tender age of 33. 
Reflecting more on his time at Brummana, David was the Student Business Manager for the Yearbook 1972-73 (a fact confirmed by a copy of the Yearbook still held on campus!). He remembers very well the many activities and places on and off campus, even the little winding streets around the town. It was a pleasure to tour the Upper Campus with them and with Anis Saad, the school's fantastic photographer, available too, it was possible to get some memorable shots of the couple, even behind their old desks in the MTB! Quite remarkable memories meant David and Silvana were able to point out many of the subjects and teachers who taught in each room. They then joined the 200+ guests for an excellent Speech Day event, being particularly impressed by the student speeches and prize winners. Before and after the ceremony both David and Silvana were able to meet several members of the school community – from Governors to OSA members, Administrators to Parents and of course Students to Teachers. 
The school and its community would like to thank the Nassif's for their visit and hope they come back again very soon. Indeed, next year will be the school's 150th anniversary, also 50 years on from 1973 when David himself gave one of the speeches for the 100th Speech Day!