Blog Article: 'Fly on the Wall' in Virtual Classrooms
Wednesday, 17 June 2020
Share this article:
By: Richard Bampfylde
In very early spring, so began Brummana High School's digital campus, providing comprehensive remote learning and support services during the Covid-19 pandemic…
It was a pleasure to be able to drop in on so many BHS classes during the lockdown period and I'm very grateful to all the teachers and students who willingly supported this virtual adventure. And an adventure it certainly was!
The journey took in almost all grades and almost all subject areas, and watched as abilities with virtual classrooms developed throughout lockdown, with extensive ICT and E-Learning support and training provided throughout, both on Microsoft Teams, the platform for all the virtual classrooms I attended, as well as Moodle.
The school's initial provision and ultimately the extremely comprehensive provision of learning and support on offer by the end was all aligned with global educational best practices, with a particular focus on British education, with the BHS recognised as the British school in Lebanon.
My journey began after a few weeks of lockdown and commenced in the Infants section. The start of April saw me join Ms Rowina and her KG1C class, when Fruity Fridays was the core topic of the day, a lovely activity that happens on a monthly basis in that section. It was also great to be able to 'drop in' on Ms Rasha and her KG3C students as well as Ms Zeina and her KG3B students. Ms Maya was also in that KG3C class, working alongside Rasha, and that is Maya of the Happy Butterfly book creation and reading fame!  
All the students seemed to really enjoy it, and the online nature of these classes didn't take away too much of the satisfaction, especially when they had a fresh strawberry in the hands (and mouths!) or a yummy banana milkshake, as that was the project of the final Fruity Friday of the year. Dare I say it is not only the students who seemed to enjoy it too… staff and parents equally got involved and enjoyed 'the fruits' of the day as well.
The challenges faced by Rowina, Rasha, Zeina and all their students were challenges that remained throughout lockdown, mainly those of the internet connection in Lebanon. Indeed, this was rated by the vast majority of BHS survey respondents as the number 1 issue with providing online learning in the country, with the infrastructure simply not efficient enough, or at a large enough capacity, to ensure high speed connections and an acceptable bandwidth. Indeed, just a few years ago news was published on a study that had ranked the country in the bottom three globally for average fixed broadband speeds, yet there has been some improvement since then. 
Nevertheless, like all our courageous and committed teachers and students, Rowina persisted and even kept cameras on, something they would consistently try to do particularly in the Infant section, always trying to provide our youngest students with access to as much 'normalcy' as is possible, either trying to keep cameras on throughout the class, or just switching them on for the regular 'show and tell' activity each day, a tactic successfully employed by both Rasha and Zeina.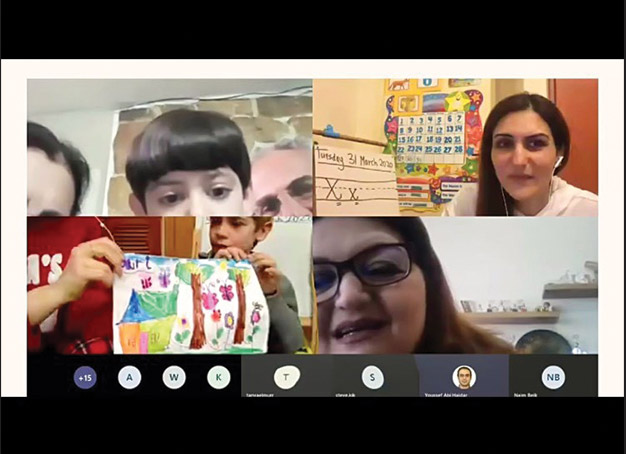 In the case of Rasha and Maya, it was lovely to see the 'virtual classroom set-up', particularly of Rasha at her home, with a makeshift white board and classroom calendar visible, and of the way the two were still able to interact so smoothly despite the frankly unprecedented situation they found themselves in.
This was the core emphasis on the school's provision of Online Pastoral Sessions (OPS), classes designed for the Lower School grades to assist them in their day to day lives, even hour to hour sometimes, providing them with the normalcy, knowledge and comfort they desired. BHS was one of the first in Lebanon to provide these OPS classes, a pioneering position and perhaps unsurprisingly this was picked up by the local press, with a Daily Star article heavily featuring the school as their journalist sought to understand how Lebanese citizens were coming to terms with education and learning during these unprecedented times.
Following this dive into the Infants section, it was then possible to join Ms Liliane in two of her Grade 6 classes on April 6th. Both of these were very successful as Liliane guided the students through an activity on how to remain healthy during lockdown, via the means of an engaging class book, shared on screen. This sharing on screen of material, though very new back then, was to become one of the staples of a great many of BHS virtual classrooms throughout lockdown, with teachers very comfortable in sharing (and working live on shared material), and even many students too.
The same day it was also possible to drop in on Ms Elize in her 4C Maths class where she was running a very interactive decimal place activity. She had a list of questions and the students were invited to answer. The students clearly enjoyed this activity and showed great promise in their abilities to navigate decimal places correctly. I was happy to recap my knowledge too!
There was then even an opportunity on April 7th to pop in to the youngest students in the Elementary section, with Ms Sharon welcoming me into her 1A classroom for a remarkable number of activities given the constraints of the online class and the age of students. She highlighted students' reading success on scholastic and EPIC that they had achieved, how to solve arguments, an enjoyable story time which was followed by a Q&A and even a show and tell activity. I could appreciate how challenging having over 20 students, aged 6 or 7 years old, online all at the same time must have been on a daily basis yet I found Sharon's talents and the students' abilities to navigate the virtual class and material all quite remarkable.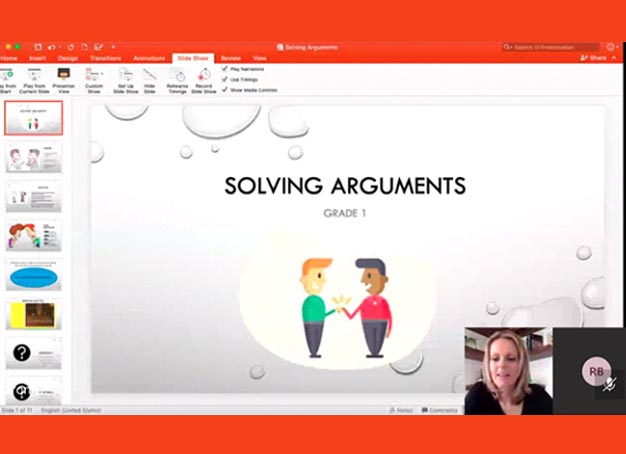 Afterwards, Ms Elize then invited me back in to 4C for an interactive Science activity, one which involved the students learning through a worthwhile PDF science book again shared on screen, highlighting energy and fats in foods.
This dip into the lives of the Elementary teachers and students had showcased the energy, enthusiasm, commitment, skills and knowledge of that section, and indeed all the sections at school, whether it be on campus or online in our digital campus.
Then on April 8th it was time to visit the Secondary section, something I was able to do with Ms Hoda, joining her and her students for their IB1 poetry class focusing on William Blake. To move from the Lower School to the Upper School in such a quick timeframe and 'virtually' was quite a shock to the system I must admit, but a very positive shock allow me to add!
Suddenly we had students engaging in such thought-provoking material, material which leads us all to take note of our present lives, our experiences and our futures. Hoda invited Tatiana R. to provide her review of two specific poems including 'The Fly', offering advantages and disadvantages of each poem, something she was able to do very successfully. This allowed her peers to then engage thoughtfully and respectfully with her arguments, probing as to how and why she had come to certain conclusions. I was pleased and definitely not surprised to see the Quaker philosophy and values the school is built on to be very prominent and despite us interacting online. It all transpired to be a very worthwhile debate and positive and enriching class overall, and one I was happy to witness.
April 22nd heralded Earth Day and to mark the occasion I was very glad to be able to join Ms Liliane in her Elementary 6B classroom where she made use of a book specifically designed for the special day. The worthwhile National Geographic Earth Day story book reading was then followed by a Q&A session, one I felt Liliane displayed particular patience for, especially with a large number of students attending with the good, old Lebanese internet connection as mentioned above! She even managed to mention a call for students sharing photos and videos and which could be posted on the school's social media platforms, an important development across the whole school and which provided the community and general public with such worthwhile content during the Covid-19 pandemic lockdown.
Having dipped into the Secondary with Ms Hoda, I was then keen to dip again and Ms Lara and Ms Jessica provided the platform for this, in Biology and English Literature respectively.


I enjoyed Lara's IB1 Biology class very much and stayed for the whole session, actually postponing where I had to be next. I particularly enjoyed the part on the mesocosm projects. Her explanation of what is coming up in terms of the students' Internal Assessments (IAs) was interesting and very useful for them. Her naturally supportive teaching style was clear to see despite the virtual classroom set-up, as she made all the students feel comfortable and know how accessible she is outside of regular class hours.   
It was then Grade 11IP English with Jessica, a class I also really enjoyed. In fact, its hard to say any class throughout lockdown which I didn't really enjoy honestly! Students made presentations on texts and the discussions that followed were very thoughtful and of real interest. Teddy's conclusion of "We all struggle with our own identity," was an expressive comment indeed. This highlighted how comfortable the students felt in engaging with their teacher and peers, even with lockdown in place. Indeed, this comfortableness was something especially apparent when considering the sensitive topics of insecurities, peer pressure and sexual understanding which came up in the class texts and discussions and it is a credit to Jessica for establishing that class atmosphere which continued into virtual classrooms too. 
The sojourn into the Secondary wasn't quite over yet, however, and May 18th saw a dip into Mr Kamal's 2S Chemistry class. The introduction into enthalpy of combustion and the different formulas and questions that were worked through were both interesting and impressive given the limitations of the virtual classroom. Kamal's knowledge and patience were both very clear to see, and his writing skills on the shared screen something to behold!
It was then, on the same day, an opportunity to drop in again on the Elementary, and this time 3B with Ms Chantal. Another enjoyable and impressive class, particularly how much content and activities Chantal and the students were able to work through during the hour. The new 'raised hand' function on Microsoft Teams was explained and story time including a discussion on the moral of the story, the sharing of science models depicting Earth's layers and answering questions on those layers in the book (including drawing/labelling the layers) were all activities undertaken. 
Last but certainly not least, it was the school's Intermediate section up next! 
Ms Eliane's Grade 9 IGCSE English Language and Literature class was the setting with some very worthwhile presentations made around the topic of advertising and partnerships e.g. Coca Cola + Delta, The Vegan Society and of course Rugby in England (which I enjoyed in particular – thank you Kaya!) The subtitle in the vegan topic 'One World. Many Lives. Our Choice.' really made an impact. Overall, the students seemed bright and engaged and Eliane was able to draw them into developing their ideas as well as discussions. I was happy, although not surprised, to know students have strong opinions and feel comfortable expressing themselves also, such as with veganism and/or sports. Indeed, this is a core strength of the school with debating and presenting skills harnessed, especially during the BHS Model United Nations Conference each year. Interestingly, this year's BHSMUN Executive Board has just been selected and we are looking forward to all that those students can achieve with their events and the 2021 conference.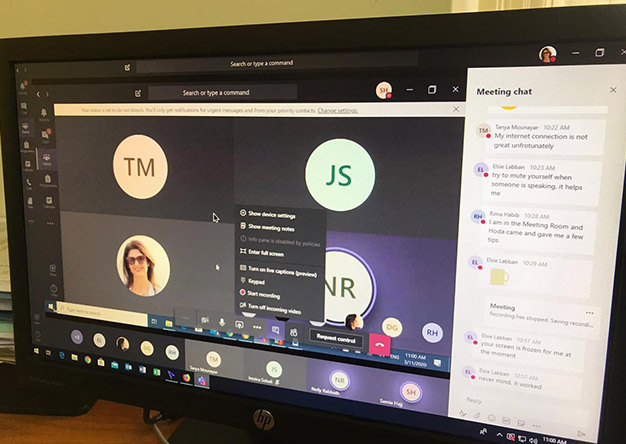 Ms Samia's IB1 Chemistry class was next on May 21st and yet another session I really enjoyed (and despite not having much of an idea about the content – particularly Occam's Razor and Hybridization!). Many students were very impressive (noticeably Adriana G. in particular). I was also very impressed with how Samia approached the topic with material/tools, making use of screen sharing with her PowerPoint as well as with the whiteboard tool (the first time I had seen that), and even providing a key to the multiple choice quiz as follow-up. The Cambridge Assessment science experiment video was very engaging. It was also very useful to see Samia's approach, tying in international mindedness and Theory of Knowledge (TOK), in particular the connections with other subjects, which allowed for some great comments and discussions from and amongst the students. The question 'Which role does symmetry play in different areas of knowledge' was personally appealing. Similar to Ms Lara in Chemistry with IAs, Samia took the time to also mention IAs as well as the Extended Essays (EEs) too.
Ms Eliane's Grade 7 English class covered the book The Giver, with Eliane reading and her students showing their engagement through a Q&A session. Rayan expanded on the feelings of being terrified, pain and safety, in order for wise decisions to be made when helping the community of elders. Again, Microsoft's 'raise hand' function was used well here, and great discussions and interactions about pain and memories via probing questions were very evident.
Remaining in the Intermediate section, I was then fortunate enough to be taken on an international adventure (something only in our dreams during lockdown!), and one to New Delhi, India, with Ms Caline and her Grade 8 SST students. Her travel log project engaged all the senses as Caline was able to bring about the feelings of travel and excitement very well indeed. Caline's example of a travel log really brought alive the feeling of being right there in India, and even on the plane ride over. I was happy to watch and listen as she took the students on a journey and adventure. Engaging the students at every opportunity was something very impressive too e.g. even inviting them to look up flight times or train journeys en route to and around New Delhi. The students clearly enjoyed the class and took a lot from the experience, as Caline allowed them to imagine and dream, two things not many people can bring about in individuals. I'm sure many were dreaming of travelling to India soon and being on a TukTuk or even visiting the Taj Mahal. I'm less sure the students would all be so keen on trying all the food that's all! Caline and the students would invite me back on a couple of other occasions too thankfully, and the explorations of Brazil and Belgium were of notable interest also, with the Rio Carnival and Amazonian Rainforest real treats! Thank you Maria, Joya and Theresia for really transporting me back to what it is like to be in Rio (I was there in 2003).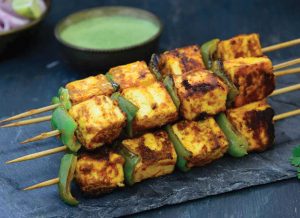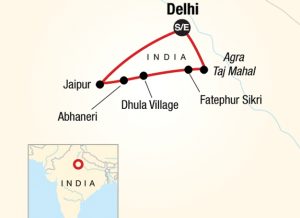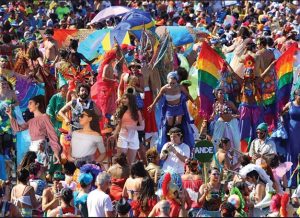 After this enriching sojourn into the Intermediate section it was back down to the Infants at the end of May. Ms Cherine's KG2B class on May 29th was very impressive, as she was able to cover so many activities during the 30-40 minutes, despite the students being 4-5 years old. From Days of the Week, to Show n Tell, to the letter Q (including the British Queen!) and to the 'Q' video story and even writing the letter, a range of worthwhile and engaging activities took place all online in the virtual classroom. The session was interactive and the students clearly enjoyed it. A clever and original way to check students' work was also used by Cherine, as she invited students to ask their mum's to take a photo and post on the Microsoft Teams platform.
I had been very interested to attend an Advisory session in the Intermediate section and May 29th also presented an opportunity to join Ms Aline and her Grade 9LPA Brevet students. The students were very comfortable displaying their knowledge of integrity, highlighting examples in different scenarios and industries. It was a passionate and lively discussion and it was clear they felt comfortable in their surroundings thus being able to express themselves like that. I particularly enjoyed the businessman example from Joseph F. and interested in Carl S. and his example about Government and the need for more transparency.  
Maths next and in the very same class, on June 2nd. It was early morning and Ms Aline displayed her calmness and caring attitude, asking how students were feeling, and especially with some of them just waking up! The process of Maths education was clear to see and the students were particularly engaged. Factorisation and the commutative values were covered well and it was great to see Aline making use of a video too to help explain, as well as to provide different learning tools/techniques in one class. Indeed, the range of learning tools/techniques displayed throughout the BHS virtual classrooms by so many teachers was really very impressive overall.
Afterwards, I was happy to listen to and watch the recording of Ms Mayssaa and her Grade 8LPA students during Maths class (as I had been unable to attend the session live). I noticed how different, creative techniques were used to engage the students e.g. www.menti.com as well as chat messaging on Microsoft Teams too. For a visual learner, it was great to see how Mayssaa switched equations from the traditional numbers and letters to being pictorial based, with the elephants and horses. I'm sure many of the students appreciated this also. It was clear how she worked through the equation, explaining orally and by circling or crossing out animals. It was then great how she switched back to numbers and letters and invited the students to respond initially, before explaining to the whole class.
Then, in the penultimate week of the school term and academic year, it was a return to the Infants and Ms Sabine and her KG2A students on June 15th. This was a particularly exciting time as a new system was being trialled in that section, in preparation in case we remain online in September due to the Coronavirus. Though only being able to join for the last ten minutes it was very enjoyable, with an impressive amount of material covered. It was great to see William able to name all of the months of the year correctly. The Days of the Week song did take a bit of time to get going due to technical difficulties but Sabine and the students got there eventually and it was well worth the wait. Then Melina impressed everyone counting from 1 to 15. Sabine was even able to cover today's calendar too and learn about a few upcoming birthdays.

It was a pleasure then on June 17th to join KG3B and Ms Racha and Ms Maya again, as I had done two and a half months before. It was great to see how they were able to engage with most/all students in turn either via the reading comprehension worksheet or the short/long 'a' vowel sounds. The smaller group size (the new schedule system mentioned above) seemed to be working well. I loved how two students had added creative background designs – particularly Lorenzo with his Minecraft! It was very nice to see parents still engaged and supporting the children. I also noted how Racha provided worthwhile advice for the summer break, to continue their reading and writing skills in preparation for September, as they move into the Elementary section and Grade 1 specifically. 
One final, very special experience came with less than a week of school to go and joining Ms Lara and her Grade 9 Advisory students for their last session, in which they celebrated leaving the Intermediate section and moving to Secondary, by 'Crossing the Bridge'. I felt very fortunate to get to experience such an occasion. Lara had selected pertinent quotes for each of the students. It was great to have the Head of Section in attendance too, with Ms Rima joining to see these students off well on their educational journey. There was clearly a special connection between the teacher and all the students. Lara ended with a 'virtual hug' and all students were applauding. One particular quote from Lara which stood out (of many) was from Steve Jobs, "Those who are crazy enough to think they can change the world usually do." A couple of special quotes from the students also were: Jad J. saying "Life has no script" and Roger N. suggesting "You must do the things you think you cannot do" (which he sent via chat messenger as was facing connection problems). Frankly, it was a lovely way to end this fly on the wall virtual classrooms adventure!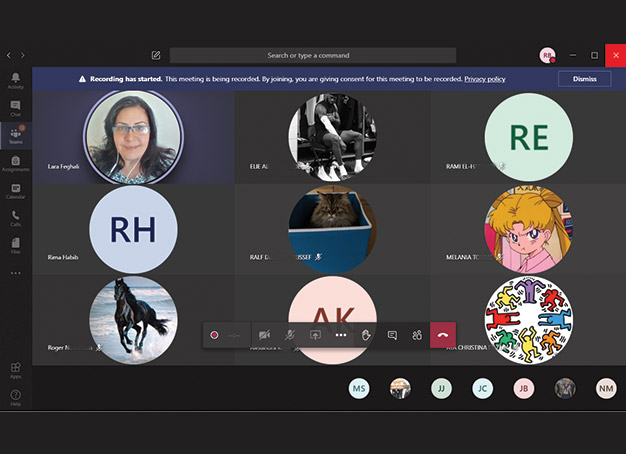 Much of what has been achieved in the over three months of remote learning through virtual classrooms in our digital campus has been down to the teachers and students showing a willingness, commitment, flexibility and enthusiasm to engage and learn in this very new format. A hearty mabrouk and congratulations to all involved. Parents are also applauded and thanked for their support, particularly those with children in the youngest grades. Always supporting the process has been a team of administrators and staff meeting regularly as the Online Presence Team. These sessions involving School leaders (in particular Mr Sage Ball, Mr George Rizkallah and Ms Hoda Wallace), Heads of Section, ICT, E-Learning and Marketing were very worthwhile and enabled the school to further develop and enhance its online offering during lockdown. Training has taken place regularly too and those trainers are very much thanked for all their hard work and efforts. Above all, it has been a whole-school community success story and one that all members of Brummana High School can be very proud of. Indeed, it has been documented in several national press outlets, including Annahar and the Daily Star.
For more on the school's Digital Campus provision, please click here.